Finding the best gaming keyboard in 2021 is a tricky thing but with Corsair, no more worries. The company has an extensive catalog of peripherals for gamers, including headsets, mice, and keyboards. Its K range is very popular with gamers. A few months ago, the manufacturer released the K100 RGB keyboard, a high-end, state-of-the-art model that offers everything you need to play and even a little more.
Corsair K100 RGB – The Best Gaming Keyboard In 2021 Characteristics:
Dimensions: W= 470 mm /D= 166 mm /H= 38 mm
Weight: 1350 g
Switches: CHERRY MX SPEED RGB/OPX Optical mechanical
Power cable: 1.82 m nylon USB-A
Technology: AXON / iCUE Control Wheel / RGB ICUE / Multimedia
Switch: mechanical touch
Warranty: 2 years
Software: iCUE
Hardware compatibility: iCUE Nexus
Price: $229.99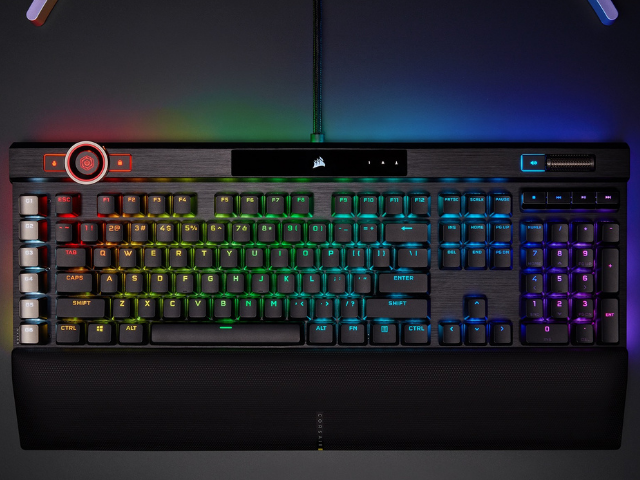 Unboxing
The K100 RGB keyboard is imposing and well accompanied with various elements such as:
K100 RGB keyboard
Wrist rest
Keys disassembly kit + keys with grip
User manual
The Best Gaming Keyboard In 2021 – K100 RGB Frame
Decked out with a brushed aluminum structure and a small landing allowing the sound and multimedia part to be raised, the K100 keyboard is a piece that does not go unnoticed. At first, it will not be suitable for users who want a compact and mobile keyboard. A comparison with an adjustment station could also be made.
Finally, we can note that the sides of the keyboard are equipped with RGB zones connected directly to iCUE for immediate control from the brand's software.
The keyboard has only two positions to be either flat or raised. We will note, however, that this time the base opens towards the sides. Therefore, care must be taken when moving the keyboard without lifting it, an action that may cause the base to close.
Wrist Rest
The wrist rest clips under the keyboard by magnetic zones are pretty imposing and very soft. However, it can become annoying depending on your keyboard use since it slightly elevates the typing. Therefore, it will take some time to adapt before fully mastering the use of the best gaming keyboard in 2021 with a wrist rest.
When this point is set, it remains comfortable and pleasant under the palm. That said, the magnetic fixation is done from the bottom, and only on two small areas will it stand up a bit.
The iCUE Nexus is typically the element that completes the versatility of this keyboard by allowing full control of the latter and its dedicated applications and configurations. It can be easily connected using the USB-A port on the back of the keyboard.
Switches
The K100 keyboard is available with two switch variants: the Corsair OPX in Optical-Mechanical and the Cherry MX SPEED RGB. The former are homemade and compete with the latest CHERRYs in circulation, exclusive to Corsair. To keep it simple enough for an improved understanding, here is a quick explanation of the different switches.
Switch Type: both ranges are linear switches. As a result, without clicking and with a direct stroke. Whatever the model is chosen, the price is the same, accompanied by necessarily linear switches.
Cherry MX SPEED RGB: this is a variant of MX RED. It is the term SPEED that must be considered since always looking for better characteristics. These switches allow improved activation for an ever shorter stroke. To put it simply, the switch bounces as fast as it responds. Enough to improve running speed. Stroke: 3.4 mm / Activation: 1.2 mm.
Corsair OPX: it makes you wonder how far the manufacturers want to go. Corsair is back today with its new so-called "optical" switches to compete ever more with the activation and Corsican records. We, therefore, end up with a stroke of 3.2 mm for activation of 1.0 mm, which is an accurate record.
Multimedia
This feature is now part of most gaming peripherals; whether it's a headset or a keyboard, having control over your computer's sound is always a pleasure.
Here we find a long knurled wheel accompanied by a button to mute the sound of your PC completely. Just below, a discreet and easy-to-access bar will allow you to perform more complete actions such as pause/play or change music.
iCUE Control Wheel
The system is simple; the wheel is equipped with the iCUE system and changes color when clicked. The color governs the actions available with it. You can assign them as you like and configure them up to an almost infinite number of profiles. However, be careful with the application's partner applications. You can't, for example, step forward or backward on a YouTube video, but the action works on Spotify.
The Stream Deck Aspect
With no less than six shortcut keys located on the left side of the keyboard, it could easily replace the Stream Deck Mini, provided it does not include visual feedback. Indeed, as with any macro, you will need to remember the configured shortcuts.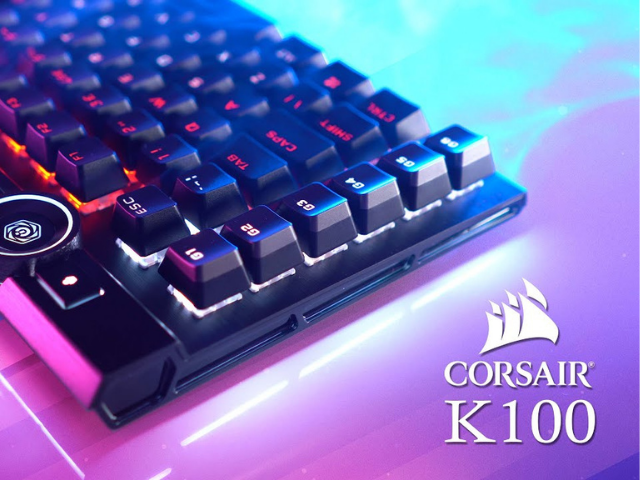 Software Of The Best Gaming Keyboard In 2021
There are several customization software at Corsair, but we will focus here on the iCUE software. This allows you to make technical and aesthetic adjustments to the mouse and any other Corsair equipment you own. Here are the different menus:
Home: this is where it all begins. You can find your different profiles and materials there.
Dashboard: it allows you to watch the actions attributed to your equipment, but also to know the information on your components (GPU, CPU, RAM …). Here you will find temperatures, usage, and much more information that you choose to display or not.
Lighting: if you want to light up instantly, your keyboard without going too far in the settings.
Settings: In this tab, all the configurations range from the grounds of the iCUE software to the grounds of the transfer rates or brightness of your keyboard.
Profiles: this is where you create your profiles according to your desires or adapted to the games or applications you want.
Action: in this tab, you can adjust all the configurations of your keyboard.
Control Wheel: This allows you to manage the uses of the ICUE wheel, as seen above in the article.
? Disclaimer:

Please note, this review has been researched with information and/or testimonials that are available online in the public domain as well as my personal experience and research. Any recommendations and/or conclusions are strictly opinions and may not apply to, or agree with, all persons or situations. See the full disclaimer for more info.

? This page includes affiliate links. Please be aware we only promote advertising from companies that we feel we can legitimately recommend to our readers. Please see our Affiliate Disclosure for further information.