In this article, we provide you the best upcoming PC games in 2021. There is a lot to look forward to regardless of your passion for the game, from upcoming AAA games to high-profile gems.
Whatever platform you choose – Steam, Epic, Uplay, or Origin, there are also plenty of new PC games to add to your wishlist. These new games include cutting-edge titles with ray tracing capabilities, as well as updates to your favorite RPGs, shooters, and co-op masterpieces.
We've picked some of the best upcoming PC games in 2021-2022 for you to enjoy, so have your wallet and wishlist ready.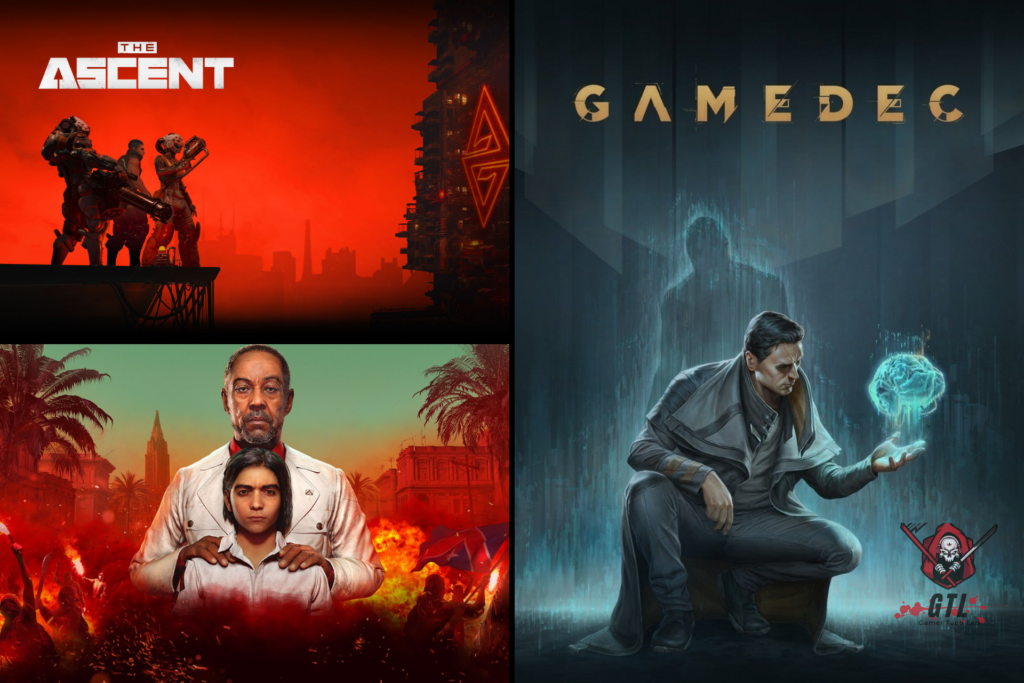 What Are The Best Upcoming PC Games In 2021? Let's See!
First, in the list of the best upcoming PC games in 2021, the Ascent is presented as an explosive shooter that you can play solo, your friend, or with up to 3 players while using a cyberwar designed to complement your playstyle. Your mission is to explore a dynamic cyberpunk world to discover what happened to the world around you.
Release Date: July 29, 2021
From the people who purchased your Endless Space comes a historic new strategy game that will let you rewrite history. Create your own civilization, then evolve through the ages. As you play Humankind, you will be confronted with significant historical events, achieve scientific breakthroughs, experience the original wonders of the world, and more. Everything to build your own vision of the world.
Release Date: August 17, 2021
Twelve Minutes is an "interactive thriller" in which you play as a man who finds himself stuck with his wife in a time loop after a romantic dinner who changes to a nightmare. This game deserves to be on our list of the best upcoming PC games in 2021.
Without any warning, a police officer breaks into your house, accuses your wife of murder, and beats you to death. When events start again, you must find a way to change the outcome before facing another painful death. This game certainly looks like a mix of The Shining and Memento, so it should provide an excellent gaming experience.
Release Date: August 19, 2021
An exciting and great MMO from Amazon Games will challenge players facing the dangers of a mystical land, fighters from other eras, and other players. The New World promises an exploration with "beauty, danger, and opportunity at every turn."
Originally slated to launch some time ago, New World has been pushed back several times and is now slated to launch in August.
Release Date: August 31, 2021
Gamedec should be an intriguing cyberpunk RPG. By playing this one, you will be in the shoes of a private investigator whose job is to solve virtual worlds crimes. A game inside a game? The developers express the game is going to adapt to the choices of yours as you play. There is also no one-size-fits-all solution to every situation, so there is much choice in how to play. The question is, is this game going to be one of the best upcoming PC games in 2021?
Release Date: September 16, 2021
Far Cry 6 promises to immerse players in "a chaotic world filled with the adrenaline of a modern-day guerrilla revolution." It takes place in Yara, a fictional paradise seemingly frozen in time, ruled by a stern dictator who tries to restore the country to its former glory. You play as a gorilla fighter who tries to reduce the fascist regime to ashes.
Far Cry 6 is one of the best upcoming pc games on this list. But it will also be treated thanks to Hollywood stars Giancarlo Esposito (The Mandalorian, Breaking Bad) and Anthony Gonzalez (Coco).
Release Date: October 7, 2021
Back 4 Blood combines the chaos of cooperative multiplayer survival with the bloody horror of a zombie apocalypse. Nice! Between the big zombies and the wild undead who set their sights on your blood, it looks like the studio is back on track after the hapless Evolve kept them in hiding for over six years. This game was first announced last year, but now the project is finally starting to take shape – and it's looking very, very strong!
Release Date: October 12, 2021
Battlefield 2042 has been revealed. Finally, and from its appearance, it will be a huge roller coaster ride roaring with fun and utter chaos. The next battleground is set in the near future with a significant conflict between the United States and Russia. Expect futuristic weapons, servers with 128 players competing against each other, and totally massive maps. Our list of the best upcoming PC games in 2021 will not be complete without BF 2042.
Release Date: October 22, 2021
The next release in the Forza Horizon series takes to the dirt roads of Mexico. The promise of an open-world adventure in a vibrant and ever-changing landscape certainly sounds appealing. And if the last game was anything, Forza Horizon 5 should be a lot of fun.
Release Date: November 9, 2021
The developers of the excellent game Sherlock Holmes offer an open-world detective adventure where you perform as you are the young Sherlock Holmes investigating the death of his mother.
The developers say there will be "minimal grip," and you can get everyone in the world to help you with your investigation, even if it's just asking for instructions. The new trailer shows a bit of combat and, more importantly, some interesting disguise mechanics for Sherlock, plus plenty of investigative paths to keep things interesting, too.
if you are an investigation games fan, well, this the right choice for you in the list (best upcoming pc games)
Double Fine Studios were at E3 2019, and they show gameplay footage for Psychonauts 2, alongside announcing that the company was joining Xbox Game Studios.
Razputin Aquato is back for Psychonauts 2. This time around, Razputin finds himself stuck with the Psychonauts, and there is much acrobatics that everyone looks forward to.
Psychonauts 2 narrates the story of Razputin Aquato, an acrobat gifted with psychic powers, as he accomplishes his lifelong goal of becoming an international psychic super-spy. 
In other words, a Psychonaut. Raz joins the Psychonauts at a dangerous moment: a mole has infiltrated the organization and plans to resurrect the most cruelly powerful psychic villains in history. Unsure of whom to trust, Raz must delve into the Psychonauts' account and that of his own family to battle demons from their shared past."
The new Rainbow Six. This new opus, long-named Quarantine before the announcement of its official name, will be much more horrifying than the previous episodes of the license. Players will have to join forces to fight a deadly alien threat. The survival horror will be released on September 16 on PS4 and PS5.
Release Date: September 16, 2021
? Halo Infinite: One Of The Best Upcoming PC Games
Halo Infinite, The Master Chief Collection, will make the trip to PC shortly. We also have the news that the next installment in the series will also be available for PC gamers.
The next chapter in the series continues the storyline of Halo 5: Guardians and promises an energetic and unexpected direction for the game, fueled by an all-new graphics engine. Halo has never looked so good.
If you've played and enjoyed the horrific sensations of Outlast and Outlast 2, then get ready for this. This game, "the Outlast Trials," is a survival horror that you can enjoy playing alone, with your friends, or with up to four other players. 
Set through the Cold War in a place of mistrust, fear, and violence, you are immersed in a world where people are subject to brainwashing and mind control. All kinds of terrors follow.
GhostWire: Tokyo is a new action and adventure game from Tango Gameworks where players will be tasked with "fighting paranormal enemies and ridding the city of supernatural evil."
After a strange disappearance befalls the people of Tokyo, it's up to you to uncover the source and purge the city of a peculiar new evil. Equipped with your own mysterious spectral abilities, you will confront occultism, unravel conspiracy theories and uncover legends. urban-like never before."
We don't know a lot about this game yet, but it certainly looks entertaining.
Release Date: October 2021
Sega and Creative Assembly have declared Total War: Warhammer III to be the biggest to date with a war on an unprecedented scale. The third game in the series takes place in the Realm of Chaos and the Eastern Lands, with appearances of both demonic factions and new human factions (Kislev and Cathay). Prepare to rally your forces in 2021.
Do you like Star Wars? Can you not get enough of Lego? What about a brand new game that promises the capability to play through all 9 Star Wars films in a Lego-based adventure game?
You will even have the ability to travel to any planet, in any order, at any time. We will definitely be visiting the Wookiees.
Release Date: To be determined
Here's the scenario: You are an assassin trapped in a time loop that resets after each Day. You must kill eight "visionaries" who are scattered on an island to get out of it. 
The problem is, you have to do it within the time frame of a time loop while escaping a killer tasked with taking you out. Expected for May 21 on PlayStation 5 and PC, the release of Deathloop has been postponed to September 14. An Xbox version will likely be released next year.
Release Date: September 14, 2021
We don't know much about Age of Empires 4 at the moment other than that it was actually announced in 2017, and we saw a gameplay preview in 2019 and got a new trailer in March. The graphics are improved, and we were able to see four of the known civilizations in the game: the English, the Mongols, the Chinese, and the Delhi Sultanate.
Release Date: October 28, 2021
A new adventure for the Life Is Strange saga. The first adventure published in 2015 marked many players, and this latest episode should do the same. With his power of extreme empathy, Alex Chen is expected to solve the mystery of his brother's death. Once again, the adventure should be rich in emotions. Life Is Strange: True Colors will be available on September 10.
Release date: September 10, 2021
To say that the announcement of Final Fantasy XVI last September shook up the small world of video games is an understatement. No rumors having been heard before its official presentation, the announcement was even more striking. 
The new installment of the unmissable Final Fantasy saga will take place in the world of Valisthea, which contains six Mother Crystals around which six nations have been built, allowing the inhabitants to use magic. 
Unfortunately, these crystals will be the object of all covetousness. Final Fantasy XVI doesn't yet come with an official release date but should be released in 2021.
Senuas Saga: Hellblade 2 is the sequel to the fantastic Hellblade: Senuas Sacrifice from 2017. A psychological action-adventure with a rich, dark story that was essentially a dive into insanity via Viking Hell. The first game was utterly sublime, so we expect more of the same from the sequel. This time it's exclusive for PC and Xbox Series X.
Release Date: To be determined
The Best Upcoming PC Games In 2022
Elden Ring results from George RR Martin's (author of Game of Thrones) effort and FromSoftware (the staff behind Dark Souls). Combine that experience with the trailer, and you have a feel for a brutal and challenging fantasy game to come over the next few years.
We imagine it will be punitive, beautiful, and full of stories. The new trailer certainly has a solid Dark Souls vibe, so we expect some challenging but satisfying fights and a glorious story too.
Release Date: January 1, 2022
Hogwarts Legacy is an upcoming action role-playing game. It takes place within the late 1800s and is set in the wizarding world defined by the Harry Potter books. As you can imagine, you will cast spells, discover fantastic beasts and generally wizards on the spot making this game one of the best upcoming PC games in 2021-2022.