What are the best gaming keyboards in 2021? Everything is in the responsiveness and precision of the keys. Demanding gamers turn to mechanical keyboards rather than membrane ones. In this article, we've taken the tour and selected the best ones for you.
Whether you are a casual PC gamer, amateur, or professional, the gaming keyboard is your best ally for your MMO games, FPS, or real-time strategy. You have more keys, more options, and more customizations. 
Opt for a responsive and comfortable keyboard for a smooth gaming experience to put the odds in your favor. Wired or wireless, here is our selection of the best gaming keyboards in 2021.
How To Choose The Best Gaming Keyboard?
The first thing to look at in a gaming keyboard is the type of switches it uses. Membrane keys produce less noise, but their performance is limited. Mechanical keyboards are very responsive and, above all, precise. These are the favorites of experienced players despite their noise nuisance. Hybrid switches combine the best of the previous two. It's a good compromise for the game.
For the user to really enjoy their gaming keyboard, it must have an anti-ghosting system. Thanks to this technology, it can press multiple keys at the same time without causing errors. 
The KRO designates the number of keys that can be activated simultaneously. On a good keyboard, it can go beyond 15. The third criterion to check is the presence of the programmable keys located on the left side or at the top of the keyboard. 
Their number varies from 5 to 18, depending on the model chosen. They allow actions to be taken without having to do a lot of manipulation. It is the user himself who must do the programming according to his needs.
The backlighting of the keyboard is a real plus for the player. It can modify its intensity but also vary the colors. By opting for personalized lighting, the user can create quite surprising effects.
The last point to see concerns the additional functions of a gaming keyboard. New generation models feature multimedia keys, USB ports, Bluetooth connection, or LCD display.
What Is The Difference Between A Mechanical Keyboard And A Membrane Keyboard?
The first difference between these two types of keyboards is the price. The membrane keyboard is generally less expensive compared to the mechanical keyboard. 
A significant difference can be understood given the lifespan of the latter. Indeed, the mechanical keyboard has a very long lifespan, i.e., 50 million presses (or more) for each of the keys. The membrane model, on the other hand, begins to deteriorate after 5 million keystrokes.
Also, when typing, you need to exert a lot of pressure before you get a reaction with a membrane keyboard. Quite the opposite with a mechanical keyboard which is much more responsive and ultra-fast. These are two essential points for a gamer. 
In addition, it should be replaced for very intense use of a membrane keyboard as soon as possible because this type of accessory does not benefit from a strong resistance, unlike a mechanical keyboard. The robustness of the latter can withstand intensive use.
Users looking for silence as well as the soft feel of keystrokes can quickly turn to the membrane keyboard because the mechanical model makes a slight noise, which some players find interesting.
The Best Gaming Keyboards In 2021
The K100 RGB is on top of our list of the best gaming keyboards in 2021. It features an aluminum chassis and a brushed finish. The mechanical keys are ultra-sensitive and fast. The backlighting can be programmed by keys, thanks to the 16.8 million colors available.
It is possible to use the iCUE software compatible with both Windows and macOS to program the control wheel and the 6 dedicated keys. The device has two USB 3.0 type A connectivity and a USB 2.0 cable pass. The magnetic wrist rest optimizes comfort thanks to its removable nature and shape memory.
Pros:
Impeccable finish
Comfortable wrist rest
Easy to use software
Key box for spare parts
Good resistance
Very practical macros
Cons:
Expensive
The cable pass under the keyboard is poorly designed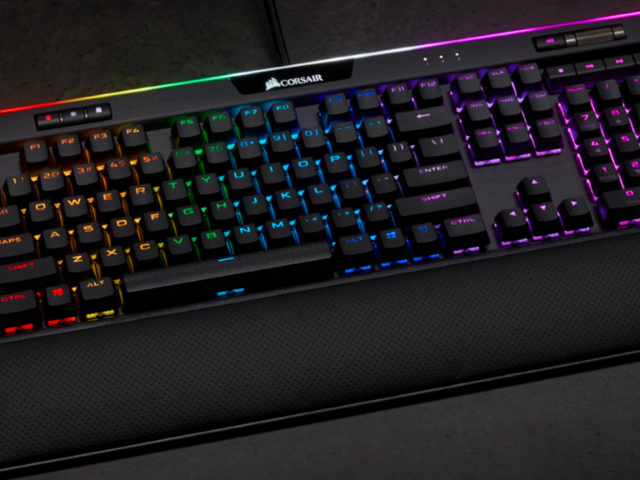 Corsair is more or less responsible for democratizing RGB keyboards to the general public – with its K95 Platinum brings these to their peak with a built-in light bar and nearly 16.8 million color options, covering the entire population game peripheral. 
Better still, it has other weapons of mass seduction, like its switches, whose minimum pressure guarantees you faster reflexes. There are also 6 dedicated macro keys, 8 MB of memory to store all your profiles, as well as a military-grade aluminum frame. 
Just like its Corsaire Utility Engine interface, which invites you to order clearly and concisely your backlight sequences or your most popular shortcuts. In short, a gaming keyboard is sure to please the most manic among us.
Pros:
Ultra-practical shortcuts
Beautiful aluminum design
Cons:
The palm rest gets dirty quickly
Logitech created the wireless keyboard first; they know how a computer works. They clicked a USB 3.0 connection on this bad boy, fitted with a six-foot cord for maximum range as well. 
What we want to say is that they went all out for this high-end mechanical keyboard, enough to secure an exclusive contract with Romer-G for custom mechanical switch keys. That's all well and good, but when you rely on the wrist rest to use the keys, it's a bit uncomfortable (at least for an hour + play sessions).
Other than that, warranty information is extremely non-specific until your package arrives, and customer service is a hassle to get if you ever need to invoke your warranty or money-back guarantee. 
Despite all the noise, this keyboard is one of the best gaming keyboards in 2021, with excellent RGB lighting, customizable options, and a choice of 16 million colors. Best of all, you get nine programmable keys to tinker with and extend your reach in any game you want.
Pros:
Integrated smartphone docking station; no more breaks for guides or game information.
High-speed actuation thanks to exclusive Romer-G mechanical switches
Cons:
Non-specific warranty information
Uncomfortable wrist rest
This is a mechanical gaming keyboard created with LIGHTSPEED wireless technology. It allows you to enjoy an excellent performance (professional level). For one charge, the device's autonomy is 40 hours. RGB backlighting consists of roughly 16 million colors that can be used to customize each key.
The ultra-thin mechanical switches are very fast with excellent precision for the enjoyment of gaming enthusiasts. The device is made of aluminum (aircraft grade). In addition, the G915 TKL keyboard from Logitech G does not have a numeric keypad. This, therefore, provides more space to move the mouse.
Pros:
Good autonomy
Strong resistance due to the quality of the material
Very robust
Compact, practical, and fast
Cons:
High price
Non-intuitive software
Incorrect positioning of the G keys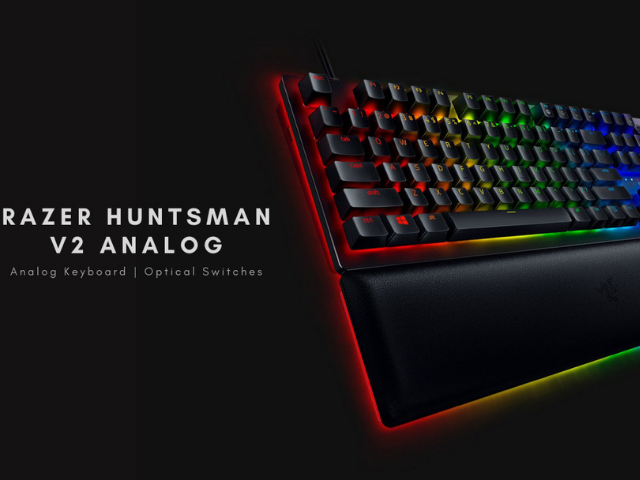 Combining the latest optical technologies and Razer's analog mechanical key switches, the Razer Huntsman v2 Analog performs well enough. It deserves to be on our list of the best gaming keyboards in 2021. And that would still be underestimating it! 
This gaming keyboard delivers the best typing experience the gamers tested over the past few months, with highly satisfying tactile feedback and a palm rest designed to let you play longer without feeling awkward. 
Best of all: its dual macro ability enables you to record two actions on a single touch – depending on how much pressure you apply, you'll activate one item or another within your inventory, fire, or reload your weapon with the same touch—a game-changing addition in the most competitive FPS environments. So yes, this model requires a bit more budget investment from you, but it is worth every penny of the dollar spent.
Pros:
Fully customizable keys
Extremely comfortable palm rest
Cons: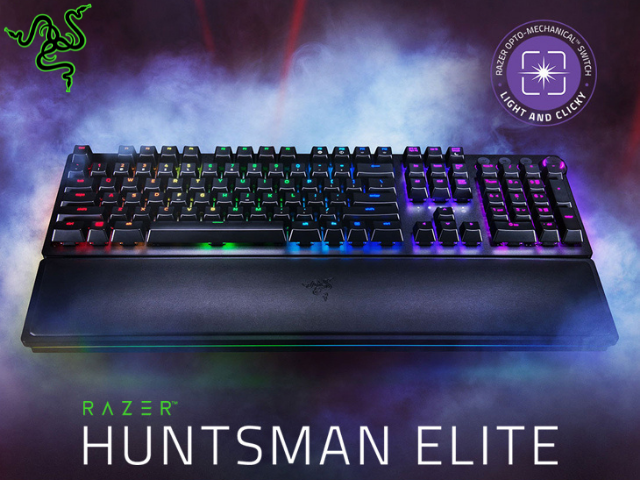 If you need speed, then the Huntsman Elite is your best ally with its new optomechanical switches. A technology that combines mechanical switches with optical sensors allows the Huntsman Elite to have a higher typing speed, with performance 30% better than that of any high-end mechanical keyboard. 
Likewise, the durability of the keyboard is doubled since it can record up to 100 million clicks. Its RGB lighting is more powerful than ever, with 104 beams of light generated. The only downside to this optical system is that each key has to produce its own laser – which is noisy, consumes a lot of power, and requires two USB ports to function correctly.
Pros:
Very comfortable wrist rest
Stunning backlighting
Resistant
Good grip
Highly efficient
Cons:
Too much noise
High price
Some bugs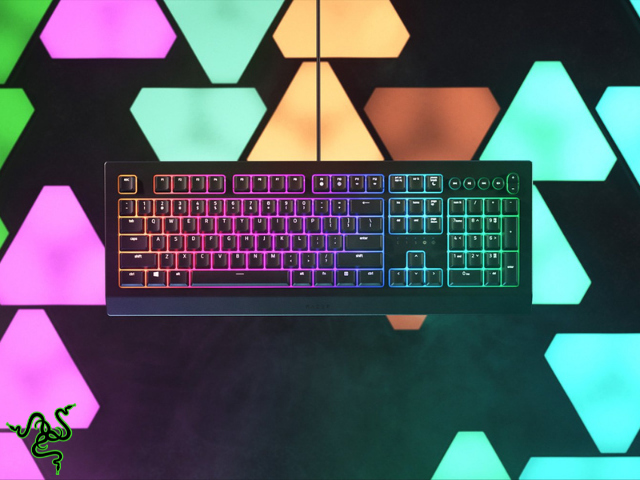 Razer may have a dense catalog of expensive products, but it also can design quality devices at an affordable price. This is the case with the Razer Cynosa V2, a gaming keyboard under €70 that shines with its chic and durable design, but above all with its flow of new features. 
The RGB lighting here undergoes a remarkable upgrade: each of the keys is now individually backlit and, as a result, looks a bit brighter. We also note solid customization of the keys and a whole new set of multimedia controls. `Even if you've never been a fan of membrane keyboards, this one might well convert you, especially for its inflated price.
Pros:
Significant improvements
Decent customization
An advantageous price
Cons:
The surface material of the SteelSeries Apex Pro is aluminum alloy. Keys that can be adjusted according to the needs of each user have a long lifespan of up to one hundred million keystrokes. These are very light and ultra-fast. The keyboard incorporates a screen (OLED Smart Display) which represents a control center displaying all of the game's information.
The screen also shows Discord chat, music and gives you the option to back up your settings. In addition, with RGB illumination, you can customize the keys with the colors of your choice.
Pros:
Possibility to adjust the activation force of each key
Rugged keyboard
Very practical OLED display
Option to add on the screen and in RGB, Gifs
Cons:
No macro keys
A quite high price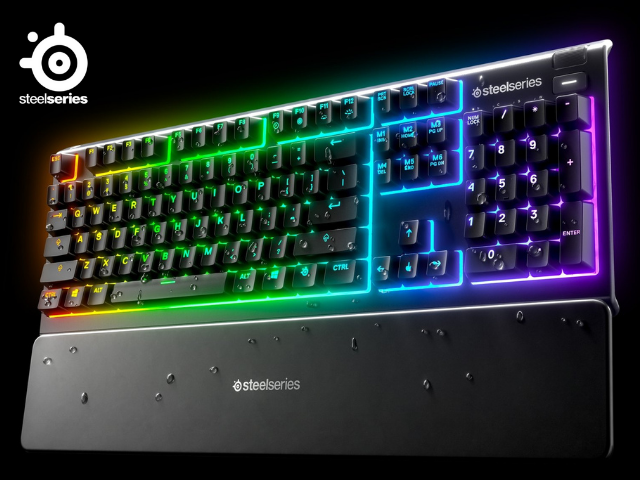 The term "budget" generally has a negative connotation in the world of PC gaming peripherals. SteelSeries is helping to modify the latter over a long time by offering a keyboard that is as affordable as it is robust and efficient: the Apex 3. 
The brand has replaced the traditional mechanical keys here with membrane keys, which are much more flexible. And that delivers a more comfortable typing experience. But above all quieter. It is ideal for paying more attention to surrounding noise in a multiplayer game and resting the eardrums of those who share the player's next room or who would like to watch their favorite TV show without the clutter.
Pros:
Competitive price
Admirable RGB lighting
Cons:
The lack of mechanical switches can be frustrating
No USB connection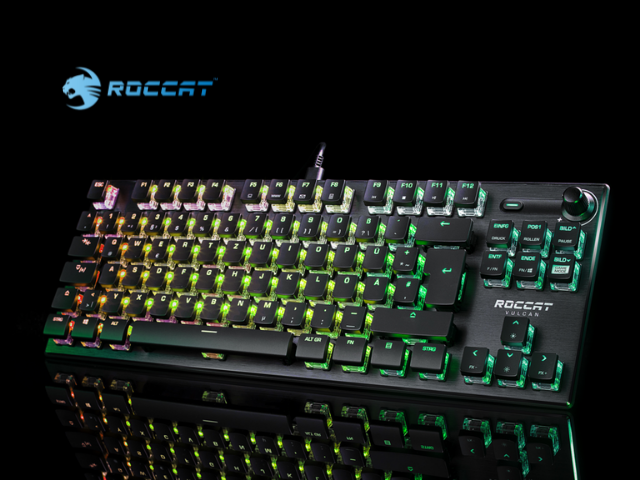 The last keyboard on our list, " The best gaming keyboards in 2021," is Roccat Vulkan TKL Pro. Who needs a full-size keyboard when gaming keyboards are as compact and comfortable as the Roccat Vulkan TKL Pro? Easy to transport, it delivers the best possible performance for a sizing device without suffering from a reduced appearance. 
Its brushed bronze finish and floating keys brilliantly showcase its customizable RGB lighting. Roccat's Titan Optical Switches deliver consistently fast and precise actions in the game and a quiet typing experience. 
Roccat has also worked hard on the robustness of its product, ensuring good use for years and years – its lifespan is rated at 100 million keystrokes. A monster who gets carried away in any competition.
Pros:
Stunning RGB lighting
Single touch speed
Exceptional design
Compact, robust
Spaced enough keys, reducing typing errors
Pleasant wrist rest
Cons:
Too much noise made by the keyboard
Some keys do not work after a while
Expensive keyboard
? Disclaimer:

Please note, this review has been researched with information and/or testimonials that are available online in the public domain as well as my personal experience and research. Any recommendations and/or conclusions are strictly opinions and may not apply to, or agree with, all persons or situations. See the full disclaimer for more info.

? This page includes affiliate links. Please be aware we only promote advertising from companies that we feel we can legitimately recommend to our readers. Please see our Affiliate Disclosure for further information.