In today's G2A review, we will discuss and provide you with important information about this platform. In contrast, G2A acts as a site or intermediary between seller and buyer to buy and sell digital products (mainly gaming products). Nonetheless, G2A includes many services and software for game developers making this platform an exciting discovery for us to talk about in today's G2A review.
What Is G2A?
G2A is a global financial transaction technology company with a complete ecosystem of different products, a G2A Marketplace, and a global payment gateway G2A pay. G2A is headquartered in Hong Kong, with offices in countries such as China and the Netherlands.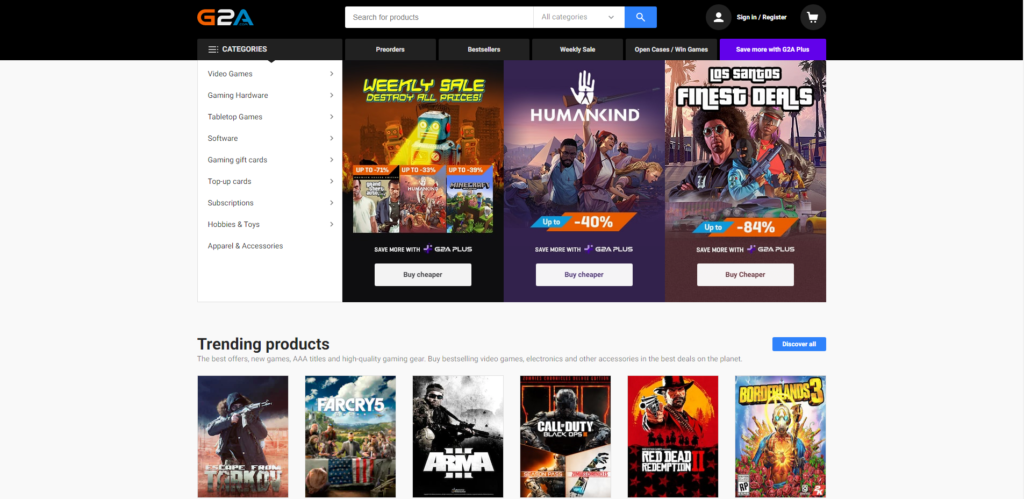 What Is G2A Marketplace?
G2A marketplace is one of the world's biggest markets for gaming CD keys to be sold and bought by gamers. If you have spare CD keys for games and don't need them, you can sell them at G2A.com.
So, if you want to sell a video game, you must select it from the list, specify the price you wish for your key, and enter the key code. G2A Marketplace has plenty of game sellers at reasonable prices.
Suppose you want to buy from the G2A Marketplace. In that case, all you have to do is type the name of your game in the search bar, to be directed to the game you want. Several options for sellers will appear in front of you with reviews, and you choose the offer that suits you at the right price, then select the payment method you want, and you will get the key to your game. 
So in today's G2A review, we can state that the buying and selling process that G2A Marketplace provides is straightforward and very safe.
G2A Pay has more than 200 local and global payment methods in 80 currencies for more than 170 countries. G2A Pay makes payments quick and easy and provides additional support to grow businesses globally.
Also, online payment experts within G2A Pay manage the buying and selling processes correctly, which achieves success on a global level. So G2A Pay is 100% legit and safe. You can pay using iDeal, PayPal, Skrill, Paysafe card, Visa, Master Card, etc.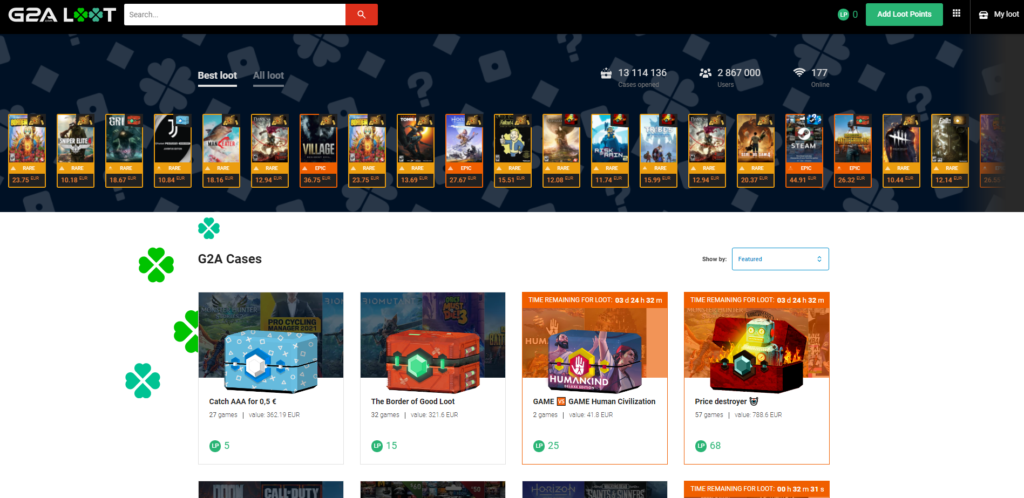 G2A LOOT is a service within G2A that allows customers to open chests, each containing a video game. You can think of G2A LOOT as a fun service for you as a customer with all the surprises (AAA games) inside each box. And if you want to try this service, just click on one of the boxes to see what's hidden inside.
Once you have your game, you can add it to your Steam library through the "My Loot" option and then click "Get your key." You can also sell the game for a portion of LOOT Points. You can try G2A LOOT without paying by clicking the Free Test button, but you cannot claim any game. 
You can get more loot points, and here you just have to buy LOOT points from the G2A LOOT website, then click the "Add Loot Points" button. Each 10 loot points = 1 euro.
There are several tabs you will find in your G2A LOOT account, namely:
It means items that end when LOOT chests are opened, and these items remain visible for 24 hours.
It means items that you have looted and claimed. 
It displays the activity in LOOT.
If you want to get a particular game, G2A LOOT has a color scale that shows you how easy or challenging it is to get a specific game, namely:
Gray – Common.
Yellow – Rare.
Blue – Special.
Orange – Epic.
It is a program for G2A Marketplace users to give them membership in G2A, and in giving you, membership G2A Plus gives you many benefits such as an additional discount on games up to 10% plus a free game every month.
Activating your membership through G2A Plus is done through the home page of G2A Plus, choosing a monthly or annual recurring subscription, and getting a G2A Plus gift card.
You can add any product or game that you buy through the "Buy with Plus" option, which is added to your shopping cart. And in case you want to cancel your subscription to G2A Plus, just log in to your G2A account and go to the G2A Plus tab and click on the "Deactivate your subscription" button; a window appears, and then click on the "Cancel Membership" option.
Steam Gifts On G2A
There are games in G2A that have the "Steam Gift" sign instead of the "Steam Key." The Steam gift differs in that the game can be activated on your Steam account.
Once you have purchased the Steam Gift on G2A, you will get the link and then copy and paste it into your browser, and you can open it and redeem the gift. However, Steam Gifts are limited to sellers only.
How To Guarantee Your Money Back On G2A "If Needed"?
Something might go wrong with your purchase of an item. This error can occur if the digital item you purchased on G2A.com is not as described, is not working, or has been removed from your account, and also if you did not get help from the seller to get your money back. 
So in this G2A review, it is essential to show you how G2A guarantees your money back. First, you have to report the problem to the seller either by displaying your key via the "Keys" or "Order History" tabs in the G2A dashboard or contact the seller directly through the G2A Support Center. 
If the seller refuses to help you or does not respond to you within 7 days, here, you go to the claim, where the claim link appears in your conversation, and you can apply for the claim within 365 days of purchase.
Once you submit your claim, it is reviewed, and your funds are then refunded either to the source of the payment method or to your G2A balance. All refunds are free.
Is G2A Affordable?
Customers usually get the game from G2A.com at a lower price than its market value, and G2A's commission is only 10.8%. Usually, distributors on G2A.com buy the keys in bulk to get a more significant discount and sell them at a profit without raising the price as it is in the market. If the cost of the game is 60-70 euros, you will find it in G2A at half the price. So in our G2A review, we can say that buying games from G2A are very cheap.
Is G2A Safe?
Yes, G2A is safe, the products in the G2A Marketplace are obtained legally, and the sellers in G2A's platform are verified and monitored 24/7. Also, the G2A Pay payment gateway protects all of your payment information, in addition to having customer service to answer your questions and support you.
What Are The Potential Risks Of Using G2A?
Any trade in which buying and selling take place is not without risks. In our G2A review, we have to mention the risks associated with using G2A, which we will remember in the following points: 
You can't get a working token permanently, so that you may end up with an unusable token.
You may use a stolen code, which will cause harm to your account and data. 
There is a technical weakness; if you buy wrongly from a seller and want a refund, G2A does not support you and will not refund you.
How To Delete Your G2A Account?
If you do not like the G2A experience and want to delete your account, you can do this as follows:
First, make sure that you have deactivated all your active subscriptions; go to the Personal Details tab of your G2A account, then click Delete Account.
You will then be asked if you are sure you want to remove your G2A account, then click "Yes, delete my account." After you click "Yes," an email will be sent to your mailbox.
Finally, click "Confirm Account Deletion," and your account will be removed after 14 days.
G2A GoldMine
G2A GoldMine gives you money promoting products on G2A Marketplace through referral links. Each product or game is cooked, where the visitor clicks the re-link link, and the more visitors to your re-link links and are purchased within the G2A Marketplace, the more you will make a profit.
No doubt you may be wondering how much you will earn, so in our G2A review, we will tell you that there is no specific amount that you will get because this is related to the price of the product, if someone buys a digital product as a game or an item from a game using your link, you get 5% of its price.
If a person buys a physical product such as a keyboard, you will get 4% of its price. Within 11 days of receiving the buyer, your winnings will be transferred to your "Available Balance."
In your Gold mine account, you will find three denominations, namely: 
Total Profit means the amount you have earned so far with Gold mine.
Current Active Users means the number of users who currently have active cookies from your Gold mine re-links. 
Your Gold mine balance. It is essential to know that you can only have one Gold mine account.
In today's G2A review, we've got to tell you all about G2A, including G2A Direct. G2A Direct allows registered developers and publishers to open their own reseller accounts, and they can charge each seller a 10% "developer fee" when they sell their games. A great feature that developers registered with G2A Direct do not have if they are not registered with G2A Direct is checking the source of each of their game keys that they have purchased from other G2A distributors.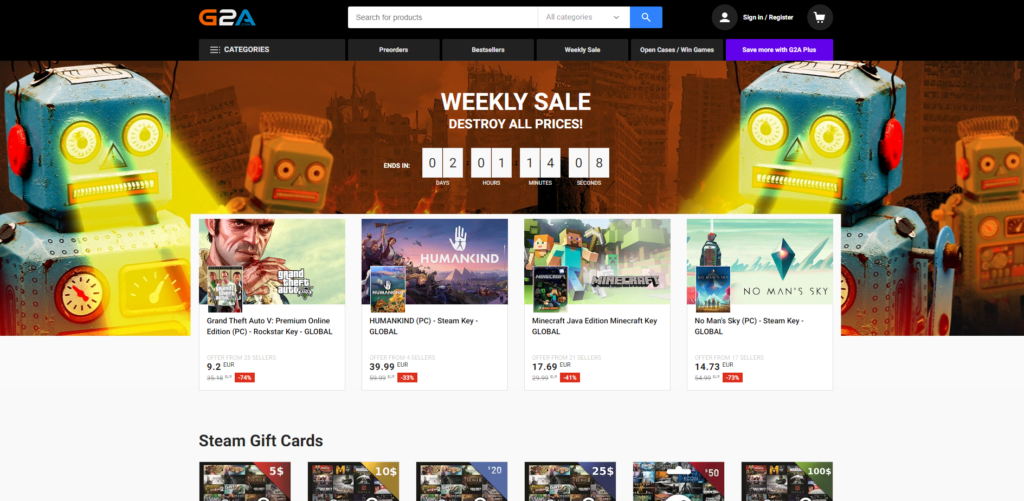 G2A Review – Is It Worth It?
Yes, G2A is an outstanding platform if you want to buy video games at a lower price than the market. Moreover, G2A has many codes to use on your consoles, plus it's safe to support your video games. So if you are asking whether to use G2A or not, we will recommend you to use it to get the games you want while saving money.
? Disclaimer:

Please note, this review has been researched with information and/or testimonials that are available online in the public domain as well as my personal experience and research. Any recommendations and/or conclusions are strictly opinions and may not apply to, or agree with, all persons or situations. See the full disclaimer for more info.

? This page includes affiliate links. Please be aware we only promote advertising from companies that we feel we can legitimately recommend to our readers. Please see our Affiliate Disclosure for further information.