Razer Deathadder Elite Review
Click On The Button Below
Pros
High-Quality Sensor
It's Comfortable For Large And Small Hand Sizes
Beautiful Design
Programmable Buttons To Boost Your Efficiency
Lightweight
Affordable
Cons
No Much Improvement For The Yearly Update
You Need To Log Into Razer Synapse If You Want To Have Full Control
Why do you need to read this Razer Deathadder Elite review? Why does anyone need to read a full review of a mouse device? If your relationship to PC isn't that strong, or you just use it every couple of days to check your mail, then surely, this small accessory won't be one of your main concerns.
But for those savvy gamers out there, everything that could affect your scoring, playing-efficiency, or overall gaming environment should be taken into account, discussed, and reviewed thoroughly.
Since most in-game aiming, navigating, and attacking are achieved via the mouse, you will need a mouse review. You will need a Razer Deathadder elite review.
You Want To Know This Before Reading Our Razer Deathadder Elite Review
If the mouse industry isn't one of your concerns, or the name Razer doesn't ring a bell, then you should know that Razer is one of the leading brands for gamers globally, most chances that you clicked on this blog post via a Razer mouse if you are on your PC.
The Singaporean-American tech giant was founded in 1998 and has released more than 56 mouse devices since then. Most of them had tremendous success and drove gamers' attention worldwide. Accordingly, to begin our Razer Deathadder elite review and before we get into more details, here is an overview for the Razer Deathadder elite.
Owner: Razer, Inc.
Price: from $26.67 up to $64.99.
Overall: 4.65 out of 5.0
Performance: 4.9 out of 5.0
Style: 4.8 out of 5.0
Pricing: 4.6 out of 5.0
Portability: 4.3 out of 5.0
Weight: 4.4 out of 5.0
Build Quality: 4.6 out of 5.0
Buttons: 4.9 out Of 5.0
Grip: 4.8 out Of 5.0
Software: 4.5 out of 5.0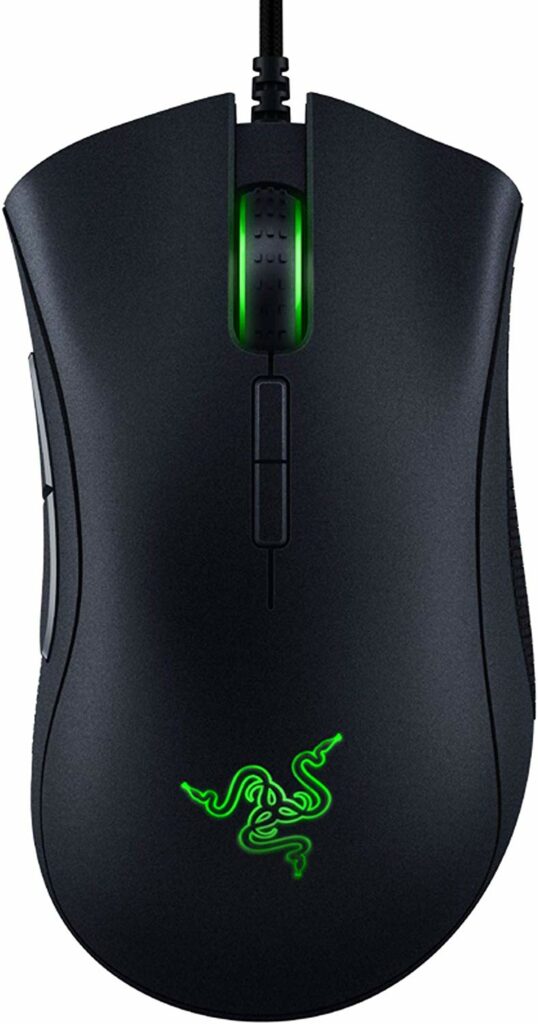 Razer Deathadder Elite Review: The Pros & Cons
As we commence with our review, I want to start with the pros and cons of using the Razer Deathadder elite. With these pros and cons, you can have an excellent knowledge of what you will expect from this mouse.
So, as a start, we will begin our Razer Deathadder elite review with the following Pros:
Razer 5G optical sensor is one of the most advanced optical sensors with a resolution accuracy of 78.7%. It has an excellent 16,000 DPI that allows it to be smooth and responsive, especially while playing heavy games.
It's Comfortable For Large And Small Hand Sizes
Unlike similar products, your hand's size won't make an issue while working with Razer Deathadder Elite. The mouse is ergonomic. Meaning that it can reduce discomfort and decrease muscle strain giving you whole better user experience.
The mouse comes with a stylish black design along with adjustable light colors, which makes it one of the most impressive accessories to buy.
Programmable Buttons To Boost Your Efficiency
Programmable buttons give easy direct access to specific functions or actions, making it an excellent thing to have if you are playing heavy games.
Razer Deathadder Elite weighs only 105 grams, which makes it easy to move and more comfortable.
When you look at the Razer Deathadder Elite's multi-functional features and high-quality build, you will appreciate the comparably-low price it came in.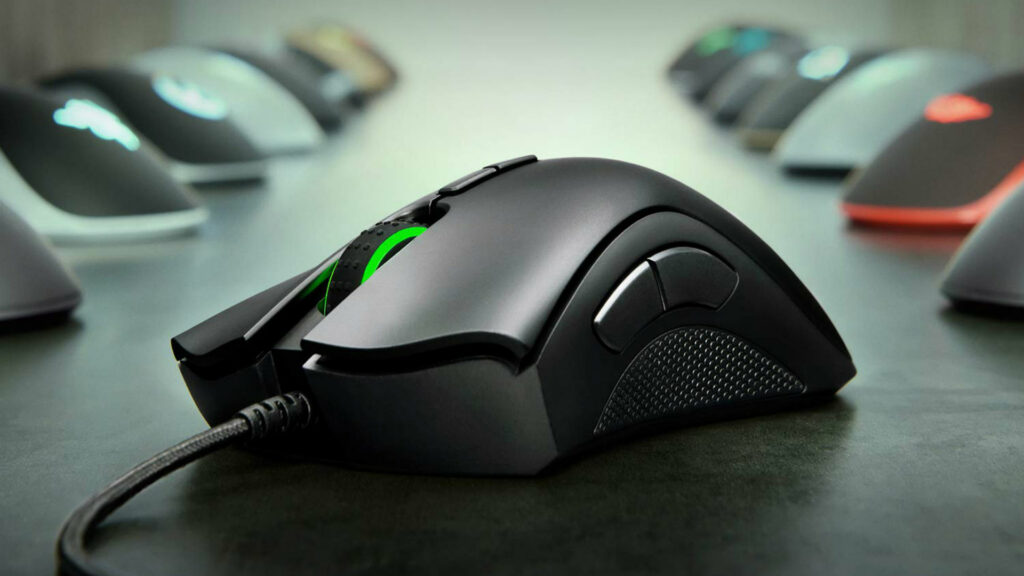 Of course, after going thoroughly with the Pros of the Razer Deathadder elite mouse, we have to discuss its cons as nothing is perfect.
No Much Improvement For The Yearly Update
If you compared this mouse with the Razer Deathadder Chroma (Razer's previous version), you would find that the only noticeable update is in the sensor (from 10,000 DPI to 16,000 DPI), Which is something good but not that big refresh.
You Need To Log Into Razer Synapse If You Want To Have Full Control
Razer Synapse is free unified software that allows users to configure their mouse devices' hardware settings and save them into the cloud. It would've been better if there was an option to do changes manually.
The Packaging Of Razer Deathadder Elite Mouse
The user's first impression is the most essential thing any review should focus on, and the Razer Deathadder elite review found the packaging experience to be satisfying and promising.
Besides the helpful in-depth how-to-use instruction guidebook, you will also find a thanking note from Min-Liang Tan (Razer's co-founder and CEO since 2005) to choose this product is a very delicate thing that is hard to find in any other tech company.
The Specs Of Razer Deathadder Elite Mouse
The following are the specs of the Razer Deathadder elite you are going to expect.
16,000 DPI optical sensor. 
7 Programmable buttons. 
450 IPS (50 g) acceleration. 
Highly sensitive tactile scroll wheel. 
Weighs 105 g (0.23 lbs.). 
It has a 127mm length, 70mm width, and 44mm height. 
 It comes with one lightweight fiber cable. 
16.8 customizable color options for lights. 
Razer Synapse software. 
Gold USB connector. 
Sensitivity adjustment. 
Razer Deathadder Elite has a modern black body that won't be distracting while working with it, the mouse has the well-known, snake-like, and elegant Razer logo printed on the back of the body.
You will find the highly sensitive tactile scroll wheel in the middle of the mouse front-body that you can customize its lights according to your mood between a set of more than 16 million colors.
You can find the model number, product number, and other information in the back-side of the body. The Razer Deathadder Elite is a large mouse, Which means you don't have to move your hand a lot while using it. It also means people with small hands might face some problems with it.
The mouse is designed for right-handed. Left-handed people might find some difficulties when using Razer Deathadder Elite like the inability to move the mouse around in comfort. If you are left-handed, who doesn't want to use the right hand, here is a tip for you: why not switch the mouse buttons!
The Build & Quality Of Razer Deathadder Elite Mouse
Razer is well-known for its high-quality devices for a long time. And Deathadder Elite won't be an exception. There are no defect parts on the mouse, and it can easily last up to 5 years without any problems.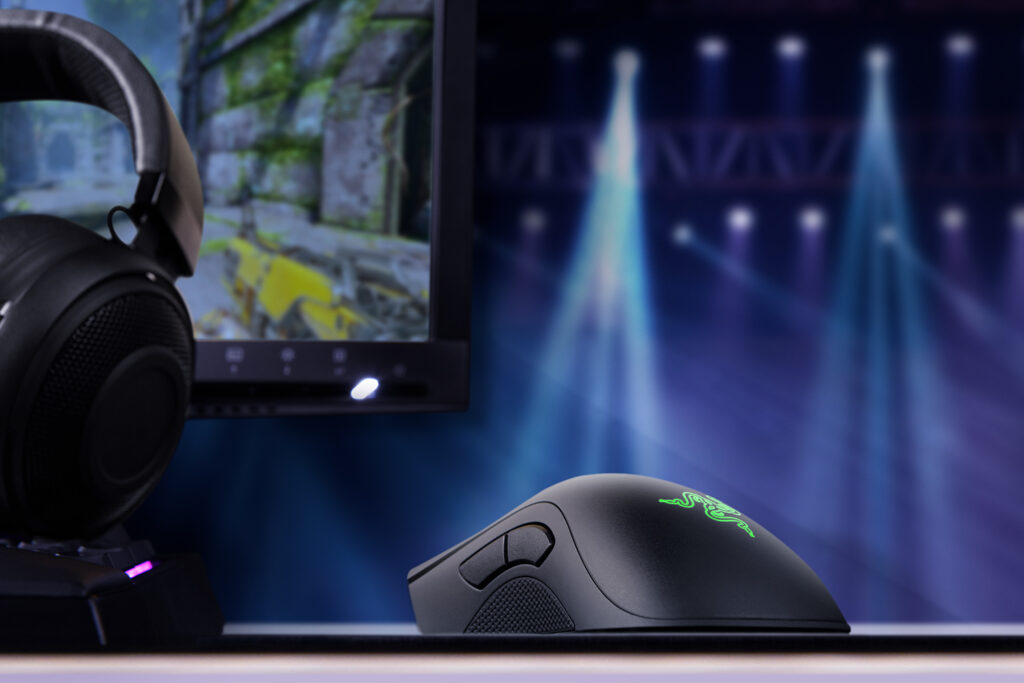 Do you use the left mouse button a lot in FPS games? No worries, with Razer Deathadder Elite, you can comfortably click the mouse buttons up to 50 million times! Which is a perfect thing giving that most companies only give you 20 million clicks?
The buttons will have a soft feel, which is quite extraordinary and will drive your attention from the first time. Unlike the other similar mouse devices, you won't be hearing that noisy strange little sound when you click on Razer Deathadder Elite. The buttons won't be easy-to-activate (or pressed by accident) like some other mouse devices.
Also, Razer Deathadder Elite has 7 programmable buttons, Which are very generous even for a high-end mouse. Most of the time, you won't need to use them all. But suppose you have chosen to level up your productivity. 
In that case, they will give you quick access to a specific action. And to make it even better, Razer would allow you to customize those actions according to your needs, which means that you won't need to stick to their default options. All you need is installing their Razer Synapse Software and make the changes you desire.
The Grip Of Razer Deathadder Elite Mouse
The Razer Deathadder Elite can be a suitable option for everyone, due to its ergonomic structure, you can easily reach all sides of the mouse without having to move your hand a lot.
The two side buttons make the user experience more efficient and can be programmed to do anything. They are in the center of the mouse's side, where you won't accidentally touch them, but you can comfortably reach them whenever you wanted to.
Holding the Razer Deathadder Elite will be very comfortable, especially if you have a large hand (17 cm and larger). You won't face any accidental slippage or anything like that.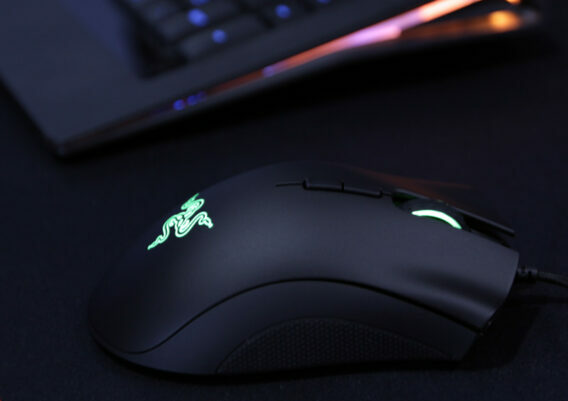 When it comes to performance in the Razer Deathadder Elite review, its sensor is a game-changer. The 3389 Razer sensor has 16000 DPI (dots per linear inch). This can assure you higher sensitivity and allows you to smoothly perform fast movements without having to move the cursor a lot, which would be a desired thing if you were a gaming savvy or programmer.
While using the Razer Deathadder Elite, you won't find any jittering or smoothing as the powerful sensor tracks every movement easily.
Once you install Razer's synapse software, you will have full access to change the DPI settings. You can choose between 800, 1800, 4500, 9800, and 16000 DPI according to your needs. But honestly, even if you are a serious gamer, you won't need anything higher than 1800, maybe 4500 at best.
The Best Alternatives To The Razer Deathadder Elite
If the Razer Deathadder Elite review wasn't so much convincing to get you to buy it, then here are some few alternatives that are in the same price range.
This is a more affordable product from Logitech, Which has an impressive performance thanks to the Pixart PMW 3366DM optical sensor.
This is a beast made by SteelSeries specifically for gaming savvies, it weighs 25 grams less than Razer Deathadder Elite, and it has 6 programmable buttons that give you more comfortable control.
Zowie EC1 is a mouse from BenQ, and it might not be as comfortable as Razer Deathadder Elite, but it's powered with an excellent optical sensor and can be used by both righties and lefties. This could be a good, more affordable mouse if you were ok with giving up on some of the functionalities that come with Razer Deathadder Elite.
If you are currently using Diamondback Chroma (Razer's Previous mouse edition), or you want a mouse device that can suit both right-handed and left-handed, then Razer Deathadder Elite isn't for you.
Otherwise, if you are a freelancer, blogger, developer, or a professional gamer who is seeking to spend time on the laptop more efficiently and more comfortably, then don't hesitate to choose a Razer product. Especially this Deathadder Elite, Which had the approval of most gamers globally, is one of the most durable, most accurate, and fastest mouse devices to work with.
? Disclaimer:

Please note, this review has been researched with information and/or testimonials that are available online in the public domain as well as my personal experience and research. Any recommendations and/or conclusions are strictly opinions and may not apply to, or agree with, all persons or situations. See the full disclaimer for more info.

? This page includes affiliate links. Please be aware we only promote advertising from companies that we feel we can legitimately recommend to our readers. Please see our Affiliate Disclosure for further information.