AMD Ryzen 7 3700x
Check Price
Price & Affordability
4.5/5
Compute And Workload Performance
4.9/5
Pros
Best Single-Core Performance
It's An Ideal Option For Multi-Threading
It's Based On 7-Nanometer Technology
Affordable
Offers High-End RAM Support
Cons
Limited clock boost capabilities
Slow Performance On Gaming Can Be Noticed From Time To Time
AMD Ryzen 7 3700x review is our today's article for every gamer looking for more information about this CPU. As a gamer, you might've been concerned about finding an affordable, high-quality performance more than a couple of diamonds! Don't worry, we've got you covered, you don't need to take our word for it, you can simply read our exclusive AMD Ryzen 7 3700x review.
AMD Ryzen 7 3700x Review – An Overview
Product Name: AMD Ryzen 7 3700x.
Producer: AMD.
MSRP: $329.
My Rating: 4.7 out of 5.0
Overall Rating: 4.65 out of 5.0
App Performance: 4.9 out of 5.0
Game Performance: 4.4 out of 5.0
Compute & Workload Performance: 4.9 out of 5.0
Temperature: 4.4 out of 5.0
Affordability: 4.5 out of 5.0
Reliability: 4.8 out of 5.0
AMD Ryzen 7 3700x Pros & Cons
An important part of the AMD Ryzen 7 3700x review is talking about the various pros and cons of the processor. Therefore, the following are the most important pros of AMD Ryzen 7 3700x.
? Pros Of AMD Ryzen 7 3700x Processor
Best Single-Core Performance
Benchmark results have put the single-core performance of this high-end CPU similar to more powerful options like 3900X, which is good news for gamers, who don't want just additional cores on paper without good results.
However, this CPU runs at 65-watt TDP, making an excellent friendly option if you're not planning on overclocking and investing in an aftermarket cooler.
It's An Ideal Option For Multi-Threading
AMD Ryzen 7 3700x has more than 8 cores and 16 threads, making it a beast regarding multithreaded workloads. Such as Blender, CineBench R15, illustrator, and a perfect option if you're planning on using your PC for online streaming.
It's Based On 7-Nanometer Technology
This new technology is packed with rich features, battery optimization, cooling capacity, and more new-tech properties compared to the 14-Nanometer or even 10-Nanometer technologies.
It offers a lot more than the competitors with less price, making it a good option for those seeking high-end experience.
Offers High-End RAM Support
It supports high-performing DDR4 RAM from 3200 MHz – 4000 MHz speed, which boosts CPUs gaming performance and single-threaded workload. However, AMD Ryzen 7 3700x has some downsides that we need to discuss in today's AMD Ryzen 7 3700x review, and the following are 2 of the most critical cons you have to know!
? Cons Of AMD Ryzen 7 3700x Processor
Limited Boost Clock Capabilities 
 If you aren't familiar with the phrase "boost clock," you should know that it's the process of increasing the CPU clock speed to get higher performance. AMD Ryzen 7 3700x only allows you to boost up to 4.4 GHz from its base 3.6 GHz clock speed, which might be slightly low compared to other competing products that could enable boosting up to 4.9 GHz. 
Slow Performance While Gaming Can Be Slightly Noticed From Time To Time
The chip continuation to provide the same speed was something vital when we'd conducted our AMD Ryzen 7 3700x review. Unfortunately, the processor delivers good solid performance while gaming while having superb performance in multi threaded programs, making it a good stable choice if you are planning to use it for a heavy rendering worloads.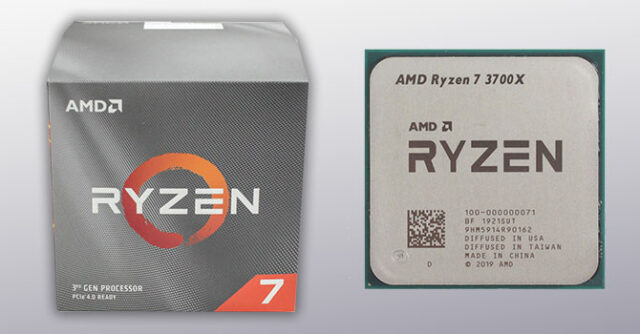 AMD Ryzen 7 3700x Processor Pricing 
We will start our AMD Ryzen 7 3700x review by giving our initial impression of its price. The chip ranges from E289.99 for the 8-cores, 16-threads, and 3.6 GHz option up to $390 for the 8-cores, 16-threads, and 4.4 GHz option which was initially reasonable price given that the Intel Core i7-9700K (which is its number one competitor) is available for $374 and offers no hyper-threading and even delivers lower performance than the AMD Ryzen 7 3700x.
Additionally, the price is on the same range of AMD previous release Ryzen 7 2700X, which some might consider it a generosity by the leading tech giant. However, you might disagree with the previous opinion on price, and that's ok, our review on price put it an ideal option for those who like to do some multi-tasking and play mid-end games from time to time.
If your preferences are different from those above, you might need to search at a diverse price range.
AMD Ryzen 7 3700x review will not be complete without talking about the first look while unboxing. Capturing this magnificent beast's beauty when you are unboxing will be your next fantastic moment before actually using it.
The AMD Ryzen 7 3700x comes in a large box made up of white cardboard, and it will be in orange and grey colors on the outside of the box with information regarding the CPU, from there you will be able to see all the hardware specs and technical information which is interesting to know.
Once you've opened the box, the contents within it are:
AMD Ryzen 7 3700X processor (might be 3.6 GHz or 4.4 GHz depending on your purchasing request). 
AMD's Wraith Prism Packed with RGB LED Cooler (AMD's top-end cooler, which most people define as the best OEM cooler in the market, it's the second thing we've liked besides the processor itself, users might find it very reliable and well-promising). 
Warranty Card (up to three years just like all AMD processors) 
Instructions for Proper Installation (follow them carefully so you don't need to rely on any online step-by-step guide that won't works!). 
Sticker for Ryzen 7 (we've liked it, it's well-designed).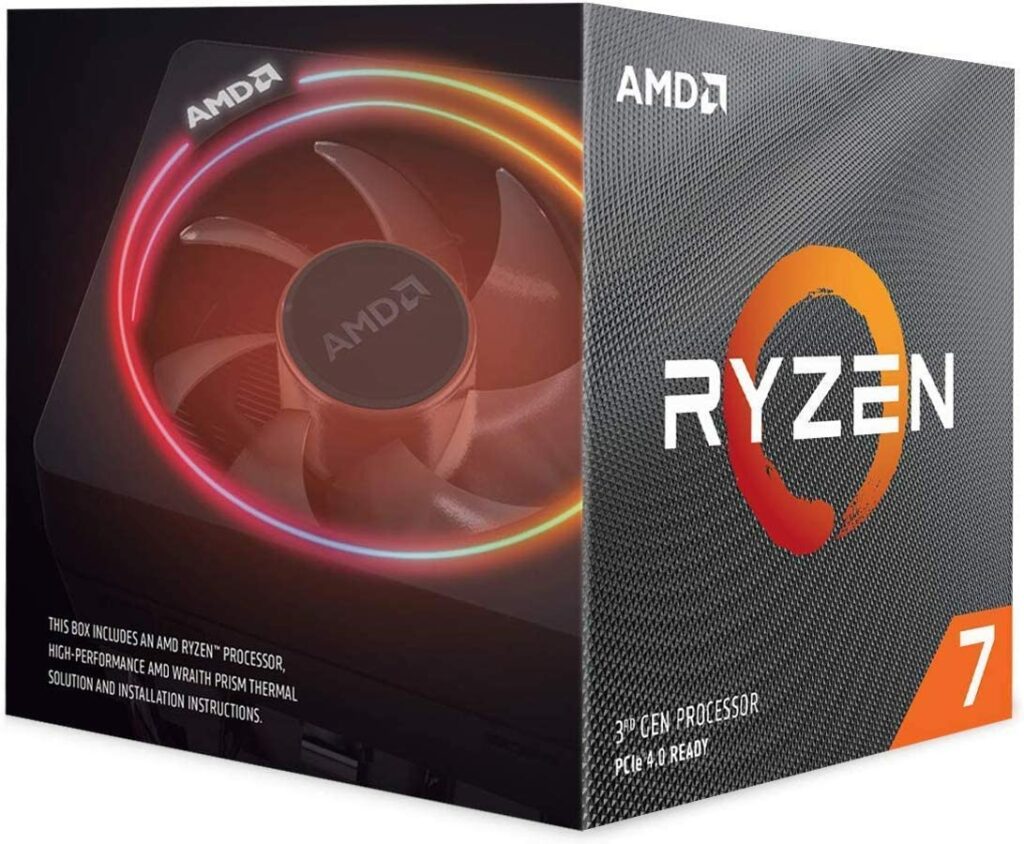 AMD Ryzen 7 3700x Processor Specs
Frequency: 3.6 GHz.
Upper Limit Frequency: 4.4 GHz.
Processor's Core: Matisse.
Data Width: 64 bit.
The Number of CPU Cores: 8 cores.
The Number of Threads: 16 threads.
Technologies And Extensions: Precision Boost 2, SSE4a, AES (Advanced Encryption Standard instructions), AVX (Advanced Vector Extensions), AVX2 (Advanced Vector Extensions 2.0), and SHA (Secure Hash Algorithm extensions).
?Security Features: Enhanced Virus Protection (EVP), Supervisor Mode Access Prevention (SMAP), and Secure Mode Execution Protection (SEMP).
?Battery Optimization Features: Pure Power.
Before we wrap up this section of our AMD Ryzen 7 3700x review, we would like to mention that some of the specs above might differ according to your supplier.
AMD Ryzen 7 3700x Processor Performance
The core of our AMD Ryzen 7 3700x review focused on the performance, the overall result was promising, and the experience was quite neat.
We've used the 9700K to compare it with our 3700X since the two were in the same range and the same release date.
AMD's 9700K was an 8-core, 8-thread, and 3.6 processor. It was a decent choice and somehow equivalent to the previous AMD chip Ryzen 7 2700X.
Unsurprisingly, the benchmark results showed us that the AMD 3700X performs up to 18% better than the 9700K. This significant increase was mainly attributed to the multi-threading capacity on the 3700X, which was twice as good as the latter.
When you look at this from the point of affordability, you will notice a much more significant difference as the AMD 9700K comes with $409.99, which is quite expensive given the lower performance and the fact that it won't come with its own cooler which adds more cost.
However, the one advantage we've noticed on the 9700K was its ability to overlock up to 4.9 GHz, which was much more than 3700X. Nevertheless, don't let the high-speed capacity fool you as the overall performance depends on the whole specs, not just the clock speed. So, even with much speed, you won't be able to do the same when you consider the lower multi-threading capability, which accounts for more functionality.
The chip scored 34,515 on the GeekPunch test and 5,590 on the single-core test, which was beyond the scope of AMD 3700X review expectations.
After we've done with the technical side of the review, it's now the time to give our non-technical users a much clearer picture of what AMD 3700X represents, when it's recommended to try it, and when it won't be useful that much.
?It Works Best For Those:
Who likes multi-tasking as general.
Those who love to do some video-editing work.
Web developers, app developers, and UX/UI designers.
Photoshop geeks and rendering.
Excel spreadsheets users.
Mid-end gamers.
Multimedia users.
?It Won't Be Much Useful If You:
Like to play competitive online games at high frame rates, "FPS or Frames Per Second" (it will be able to play them, but the results aren't going to be that great compared to other competitors offering, i.e., Intel).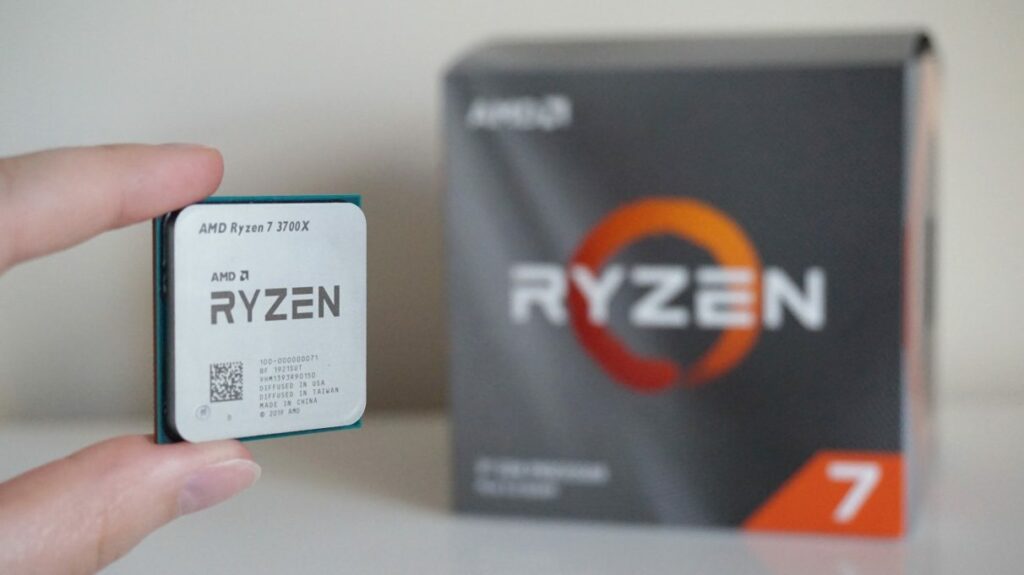 AMD Ryzen 7 3700x Alternatives
Now that our AMD Ryzen 7 3700x review has officially reached its end, it's time to explore the outer market and see what other tech giants have prepared to compete with the chip.
This high-end desktop chip from Intel comes with 8-cores, 16-threads, and 4.8 GHz. It costs $384, and it's a good option if you want to speed up the performance just a little bit, although, given its high price compared to the few improvements, we don't think it's the best chip to put your money on if you are aiming for higher performance you should choose AMD Ryzen 7 3800XT.
Another impressive option from AMD is made for those who want better speed options while keeping the price in the mid-range, it offers up to 4.7 GHz, and you can get it for $399.
With this beast, you can get up to 4.9 GHz speed along with 8-threads. It would be the best option for gaming from intel if you were ready to pay an additional $35!
Final Key Points From The AMD Ryzen 7 3700x Review 
The AMD Ryzen 7 3700x review has confirmed what we've already expected from this remarkable release from AMD. Although the 8-cores, 16-threads, and 4.4GHz specs on the chip might not be the best thing you find on the market, it's undoubtedly the best thing to spend a $329 on if gaming is your thing.
? Disclaimer:

Please note, this review has been researched with information and/or testimonials that are available online in the public domain as well as my personal experience and research. Any recommendations and/or conclusions are strictly opinions and may not apply to, or agree with, all persons or situations. See the full disclaimer for more info.

? This page includes affiliate links. Please be aware we only promote advertising from companies that we feel we can legitimately recommend to our readers. Please see our Affiliate Disclosure for further information.