Razer BlackWidow Keyboard Classic
Check Price
Pros
Good Value Keyboard
It Has Excellent Tactile And Clicky Switches
Unlock Extended Controls With Razer HyperShift Technology
Hybrid On-board Memory and Cloud Storage
Affordable
Cons
No Wrist Rest
No USB Pass-through or 3.5mm Audio Jack
We will be conducting a Razer BlackWidow review today, based on a personal request made from one of our close followers, and just like how we are used to doing things here in Gamers Tech Lab. We will be assessing, analyzing, and critiquing this wonderful product so that we give you some basic or general information for you to consider when you are planning to purchase this cool product.
As a company, Razer has been one of the go-to companies for gamers for a long, long time. This could be explained; of course, the company has been receiving people's critiques wholeheartedly, refining, and redesigning their products to suit every gamer's likings and desires.
In today's Razer BlackWidow review, we will start by showing some general information for the product, we will be pointing out some of the pros and cons of this product, and we will be suggesting some alternatives.
With that said, it is time for us to start with our Razer BlackWidow review. Let's go.
Product Name: Razer BlackWidow Keyboard.
Producer: Razer
MSRP / Price: $119.99 
Overall Rating: 4.8 out of 5.0
Game Performance: 4.8 out of 5.0
Affordability: 4.7 out of 5.0
Reliability: 4.8 out of 5.0
Durability: 4.8 out of 5.0
Quality: 4.9 out of 5.0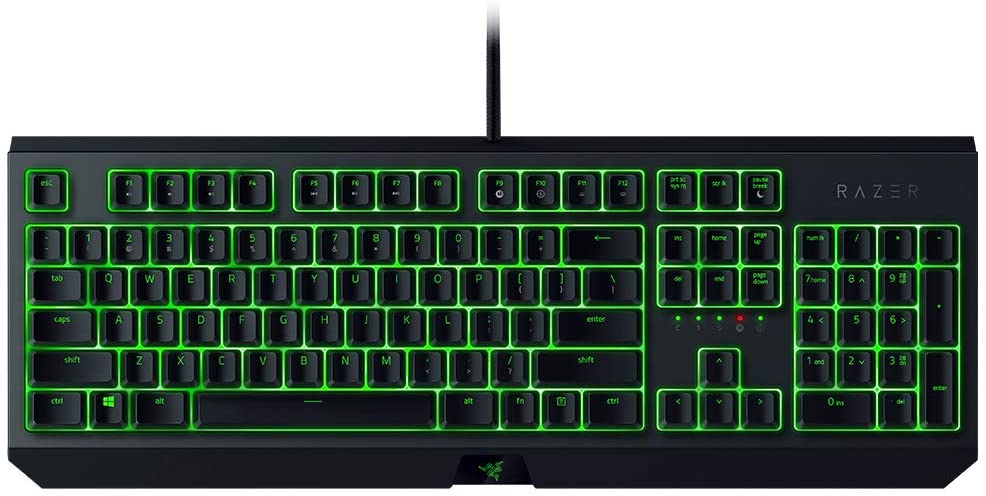 Razer BlackWidow Review Pros & Cons
To start with this Razer BlackWidow review, we need to be objective even if we adore this brand. We should be more open-minded and unbiased to extract the best fair conclusion and give the user fair useful information to help him make up his personal purchase decision.
Please note, this Razer BlackWidow review only shows the pros and cons of the product objectively.
While it might not be as sophisticated as its big brother, the Black Widow Elite, this keyboard is fully loaded with the older brother's most important technological features: Razer's trademark switches, the Razer™ Green Mechanical Switch.
These clicky green switches have a lower travel distance than the traditional switches, making it a great choice for gamers who play fast-paced FPS (First Person Shooter) games or MOBA (Multiplayer Online Battle Arena) games.
This affordable gaming keyboard will grant gamers or users the ability to reprogram a set of commands to any key on the keyboard using the included software the Razer Synapse 3 software. We must also confirm it has full RGB backlighting. To some gamers, this will be their best selling point, and we all love some RGB Lights.
The wallet-friendly keyboard comes with good features and high-quality plastic at a considerable and reasonable price of $119.99. I think some people might not take a look at our Razer BlackWidow Review, and just get lured with the RGB bling…XD.
It Has Excellent Tactile And Clicky Switches
We should mention that Razer is producing new switches that differ from what is popular in the market. In 2014, the keyboards switched market with their new mechanical switches, and from that time forward, Razer has been redefining and refining their line until it reached current great status.
Razer's answer to Clicky switches was their new Razer™ Green Mechanical Switch. These switches were going head to head with Cherry's MX Blues.
The main selling point for Razer™ Green Mechanical Switch is that they actuate at 50g and make a clicky sound for you rapid-fire keyboard warriors out there. Some people or gamers might argue that Razer™ Green Mechanical Switches are far better than Cherry's MX Blues Switches in gaming. But in our humble opinion, it all boils down to the user's preference.
Unlock Extended Controls With Razer HyperShift Technology
In order to redefine the keyboard layout and make it more functional and straightforward at the same time, Razer opted out the norm (what is commonly known) and removed the usual macro keys, just to make the keyboard more compact. Instead, they introduced Razer Hypershift technology to satisfy macro users.
This new technology gives every key on your keyboard a second function, whether it's a macro, map, or any key binding. 
This function can be turned on with a simple press of a button. This why we recommend you bind it to a suitable key that doesn't interfere with you typing or gaming. Here is one of our suggestions (~).
Hybrid On-board Memory and Cloud Storage
Let say you already set up your Hypershift function configuration, how do you save these setting. Or let's say that you have multiple razer keyboards, and you want to use the same key bindings on all of them.
You can make a profile and save it using Razer's Hybrid On-board Memory and Cloud Storage, allowing you to load your personalized settings on every Razer keyboard you own.
When we analyze Razer's BlackWidow lineup, we find out that The Razer BlackWidow keyboard is an entry-level Keyboard, which explains why it has less or limited features compared to its big brother, the BlackWidow Elite. However, this keyboard still packs a lot of value and comes at a humble price of $119.99.
The Razer BlackWidow Keyboard, as we mentioned earlier, it is a valuable and affordable option for you, especially if you are planning on using it for gaming and some typing. Of course, every product has its strong points and weak points—this why we are here to give our analysis and critique.
To complete our Razer BlackWidow Keyboard review, we should critique and point out the weakness in today's product, the Razer BlackWidow Keyboard. So, in order to do that, we have been examining and assessing the keyboard material, cable, and plastic used to hand you a robust Razer BlackWidow Keyboard review. Astonishingly, we noticed only two weaknesses in today's product.
A keyboard wrist rest is an important novelty these days. A simple wrist rest can help prolong your wrist health and improve your typing experience. This small pad that goes under your wrist in front of the keyboard can make a huge difference, especially in comfort, which translates to a better desktop experience.
Resting your hands for extended periods is not preferable, due to the nature of having your wrist in a bent position, putting too much strain on it. This is why a wrist rest is recommendable.
No USB Pass-through or 3.5mm Audio Jack
These pass-throughs are another novelty to have, especially in theses. People are more inclined to have their desktop neat and clean. Having these pass-throughs makes plugging in and out stuff much easier.
To theses, pass-thoughts are placed in a way to ease things a bit, especially if you use a 3.5mm headphone.
Razer BlackWidow Keyboard Unboxing
In our Razer BlackWidow Keyboard review, we are going to convey to our readers the hands-on experience or the unboxing experience.
The Razer BlackWidow Keyboard package comes in a sleek black box made of black cardboard. The Razer Logo elegantly is placed in multiple places on the box. The box comes in black and bright green colors. 
Some detailed specs are displayed on the box with the model name and model number and the type of switches installed. Honestly, our Razer BlackWidow review won't be whole without an unboxing experience. This is why we include hands-on or unboxing in our reviews. 
Once you've opened the box, you are greeted with the following:
A Razer BlackWidow Keyboard wrapped in a nice plastic wrapping with some plastic protective materials.
A Warranty Card. (Depending on your country).
A booklet for Instructions for Proper Installation.
Razer sticker bundle.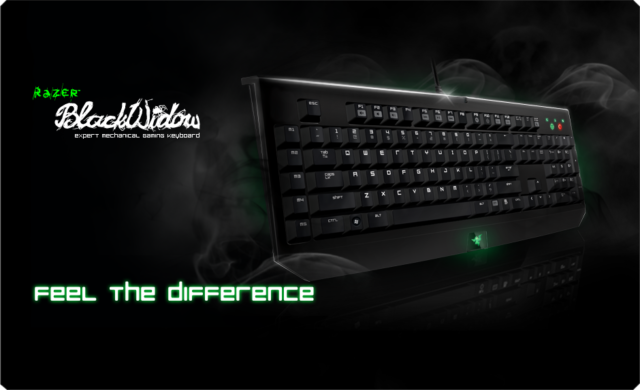 Keyboard Type & Size: Mechanical – Full Size.
Mechanical Switches: Razer™ Green – Tactile.
Macros Capabilities: Yes, using Razer's HyperShift.
Wrist Rest: Not Included.
3.5mm Audio Jack: None existent.
USB Pass-through: None existent.
N-Key Rollover: Yes
Cable Routing Options: Yes
Product Dimensions: 6.5 x 17.7 x 1.6 inches.
Item Weight: 2.75 pounds.
?It Works Best For Those:
Gamers who enjoy a good quality keyboard.
Users who are basically typing machines and write a lot of articles.
Users who do coding work, such as Python, HTML, and JavaScript. Due to it having macros, which makes things a bit easier.
A game building like UE4 and video rendering like on Blender. Also, for video editing like Adobe Premier. The same thing for having macros.
?It Won't Be Much Useful for those:
Hardcore gamers who play competitive online games, where we would recommend them investing in another Razer product that offers Razer™ Yellow Linear Mechanical Switches. These switches ensure low latency and accuracy.
To finish off our Razer BlackWidow keyboard review, we will be giving you some alternative choices. These alternatives might vary depending on your personal objectives, and the type of work the keyboard will be handling. However, we will be showing each alternative alongside its price so that you get a chance to compare each alternative with today's product, the Razer BlackWidow keyboard.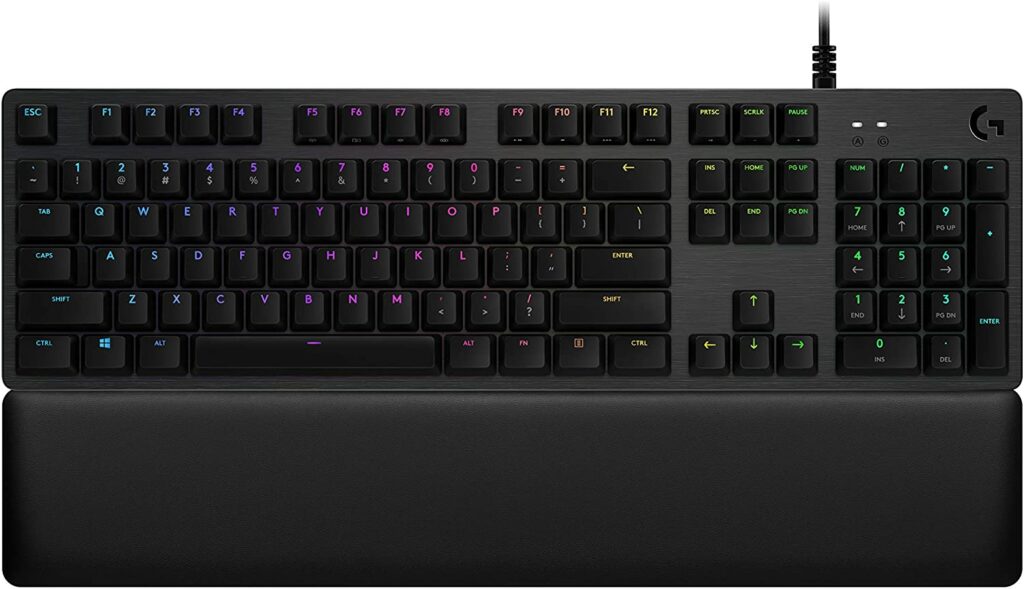 We have chosen this product as it on the Razer BlackWidow direct competitors in the gaming keyboard market. It packs a lot of features and a good solid option if you are planning on gaming. It comes with Logitech's GX Blue Clicky mechanical Key switches; it is also backlit and can be synced using the Light Sync RGB software. It is priced slightly higher than the Razer BlackWidow at $129.99 MSRP.
With that said, it is still a good alternative offering from the blue team.
Another great option from SteelSeries is the 5 hybrid. It looks fairly similar to the Razer BlackWidow at first glance. This keyboard comes with SteelSeries Pure performance QX2 mechanical switches the same. The keyboard has the same layout and configuration compared to the Razer BlackWidow, making it a direct competitor regarding setup and configuration.
We think this is more valuable, especially when considering it price offer. This keyboard is priced at $99 MSRP.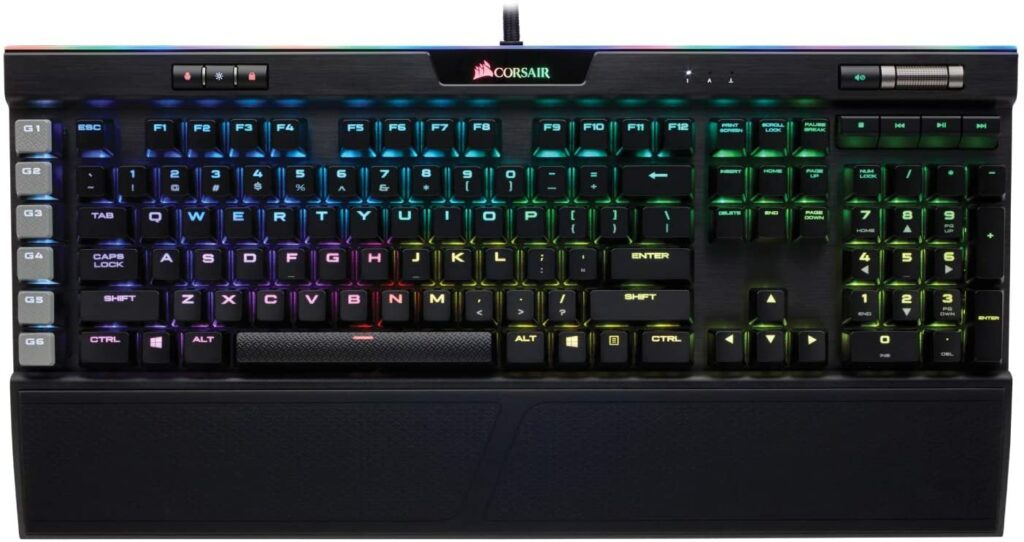 An exceptional offer from Corsair, the K95 RGB Platinum Offer high-end functions and gaming experience with it dedicated macro keys, volume wheel, and dedicated media keys.
This keyboard comes with features like 100% anti-ghosting with full key rollover, Detachable, dual-sided soft-touch wrist rest, Aircraft-Grade Anodized Brushed Aluminum Frame, and dynamic multicolor backlighting with Light Edge.
This keyboard comes in two options CHERRY MX RGB SPEED Ultra-Fast Actuation and CHERRY MX RGB BROWN Fast Actuation. Making it a good choice for gamers and multitask users.
This product is priced at $180.50 MSRP, making it the most expensive alternative to the Razer BlackWidow keyboard.
Final Key Points From The Razer BlackWidow Review 
We concluded in our Razer BlackWidow review that the product is really priced aggressively against mainstream competition Offerings. It delivers good performance in gaming and an enjoyable experience for multitasking users.
We have confirmed what we've already expected from this remarkable product from AMD. the compact size is really pleasant to have on the desktop. The aesthetics are fairly simple, which gives it a professional look. It is basically a good option for people who want to game and finish their multitask work. It's a good investment to spend $119 on a user who works in video rendering and likes to game from time to time.
We hope you enjoyed our Razer BlackWidow review. And like always, Let us know if you want any PC part to be reviewed. Don't forget to share and to comment in the comment section below with your basic system configuration and what you like us to do next.
? Disclaimer:

Please note, this review has been researched with information and/or testimonials that are available online in the public domain as well as my personal experience and research. Any recommendations and/or conclusions are strictly opinions and may not apply to, or agree with, all persons or situations. See the full disclaimer for more info.

? This page includes affiliate links. Please be aware we only promote advertising from companies that we feel we can legitimately recommend to our readers. Please see our Affiliate Disclosure for further information.