Are you looking for the best cheap gaming monitors? Today we will be doing something special for you guys. This article is made for the budget gamer who wants to buy good value PC parts; this is why we made today's best cheap gaming monitors, to help you guys out there when you are frustrated with all of the gaming monitors' offers.
We have been having a graphics revolution for some time, with the new ray-tracing technology and DLSS introduced by NVIDIA. Also, Radeon Image Sharpening and FreeSync from AMD being introduced to the masses. Frankly, it is an exciting time to be a gamer. 
There is a small revolution in the gaming monitors market too. AMD helped drive this progression with its FreeSync technology, this superb anti screen tearing technology was exclusive only to NVIDIA not so long ago through their G-Sync technology. This is why, in our own humble opinion, AMD is more consumer-friendly, especially when it comes to budget gamers.
But when we speak about budget gaming, what are we really talking about? Are we talking about the mainstream gamers who like to have an excellent decent monitor that does it job and never fail on them, etc.? NO!
The budget mainstream gamers are gamers who really like finding good deals on PC parts. They have their own set of rules, specs, or criteria in buying these parts. Usually, they look and search a lot for great deals. These people should be given a hand in finding the best cheap gaming monitors. 
This is why we are here today; we will give our best cheap gaming monitors list currently on the market to help you out when making your purchase decision. But before we get started, we need to keep in mind that most mainstream gamers game on 1080p, and since they usually are the market's budget segment, our parts will be in line with them, showing only 1080p options. So now, let's get started.
5 Of The Best Cheap Gaming Monitors
As mentioned earlier, AMD has done a great favor to the gaming community as a whole, with their FreeSync technology. Today, we are seeing more and more 75Hz monitors being manufacture and shipping. Making it easier for the gamer to enjoy butter smooth, fluid, and no screen tearing gaming experience. 
Although our picks are all 1080p, they still offer value to any mainstream gamer on a budget.
Here is our list: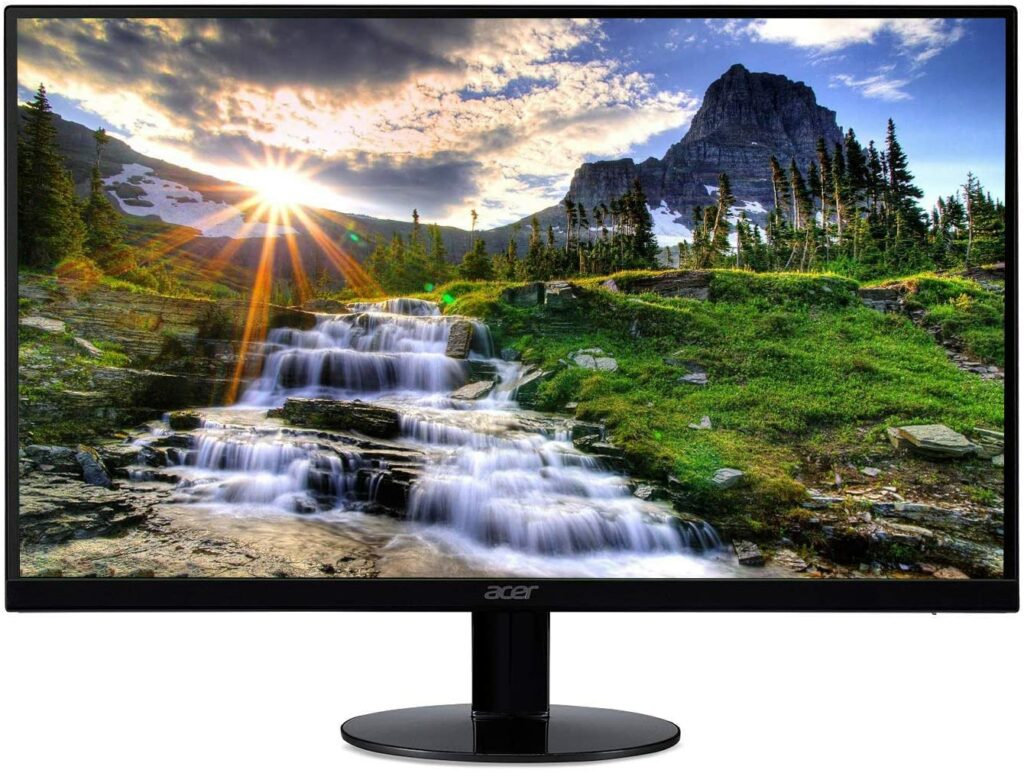 The Acer SB220Q bi monitor is one of our best cheap gaming monitors. At first glance, we didn't expect that much feature from this product only because it looked like a basic office looking monitor, but as we kept on with our review, it became more apparent to us that this product offers a great deal of futures at a low price.
With the small, sleek bezels and astonishing extreme thin frame, this monitor honestly made a remarkable statement. Usually, budget monitors are about getting the job done, but this monitor's performance is on another level comparing to its looks.
This extraordinary monitor gives you some gamer features like the On-screen display that is easy to navigate. You can easily find the aim assist feature for you FPS, 360, No scope gamers out there – yeah, we know who you are, guys – Also, there is a frame rate counter that can be enabled on the top right-hand corner, not to mention the wonderful color reproduction of this monitor.
The short response time of 4ms and the 75Hz refresh rate gives the gamers a smooth gameplay experience on a budget. For only $89.99 MSRP, that's a steal.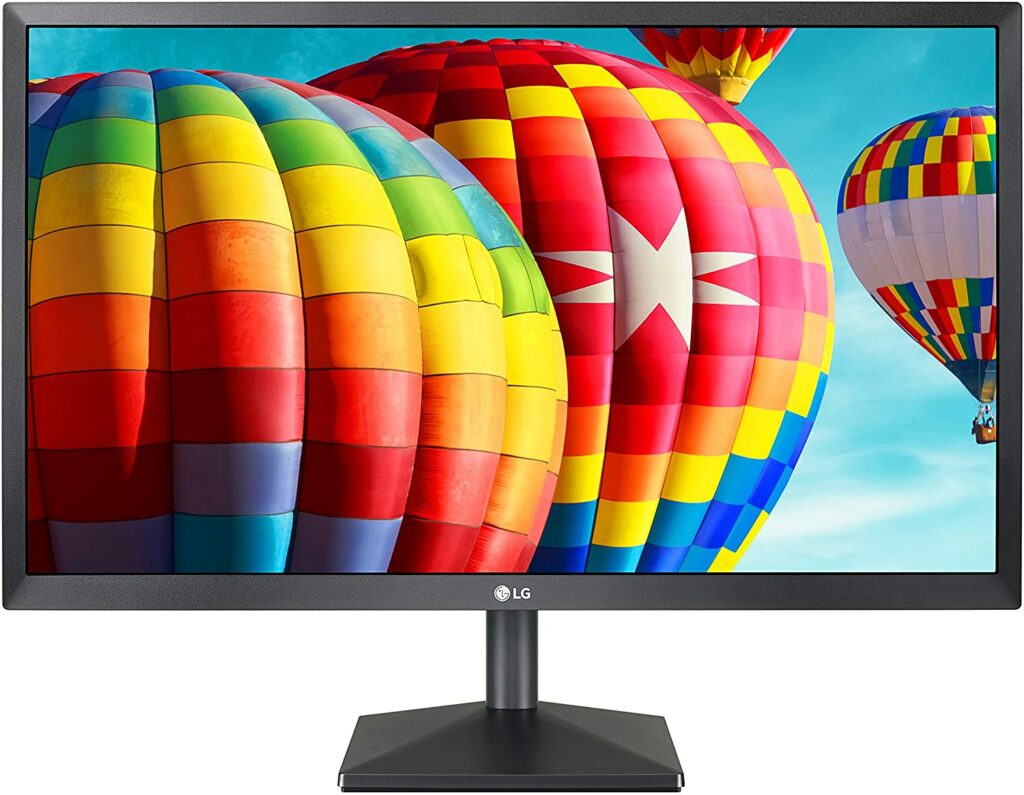 Usually, Acer and LG are more geared to selling office monitors. Still, they have been focusing on the gaming market for some time; for example, Acer launched its Predator series geared for gamers. Also, LG announced their UltraGear gaming monitors line up to satiate gamers' desires.
But like the Acer monitor earlier, Here is another monitor that confuses gamers at the first look. This monitor also plays the act of looking like a basic office monitor. Basically, at this point, we might just say, don't judge a monitor by its looks.
At under $100, this monitor totally a great deal, especially when we consider the features it offers. The LG 22MK430H-B covers about 99% of the SRGB spectrum, which isn't bad at all if you are planning on using this monitor for gaming and some light video editing work. 
LG's objective with this monitor is to present the gamers with a very affordable monitor to be easily used for gaming, considering the fact of it featuring FreeSync and running at 75hz and at a low response time of 5ms GTG (Grey to Grey).
Considering being priced at $89.99 MSRP, this monitor provides a huge value to every budget gamer. Also, an alternative to the mentioned Acer SB220Q bi if you don't find it at its marketed price.
Philips is the new contender entering the gaming monitor market. Where do we start with this monitor? This monitor is truly a work of art, the small thin bezels are so stylish, and the minimalistic feel that radiates from this product left us astonished with its elegant look.
This 24-inch monitor truly excels at color reproduction, covering 129% of the SRGB spectrum, making the most color-accurate monitor in our best cheap gaming monitors list so far. This monitor also makes an excellent deal for upcoming animators on a budget and people who are into video editing. Not to mention users who just like a perfect display to watch their favorite movies.
The main thing that we liked about this monitor is the OSD button, which is a simple joystick that eases navigation through the OSD menu instead of having multiple buttons to press. Overall this monitor serves more audiences, making it a really great deal not just for gamers but for some content creators. 
When it comes to gaming, Asus is the go-to brand. This brand built its trust though offering superior quality for its products, ranging from motherboards, graphics cards all the way to gaming monitors.
What is so special about the Asus monitors is their Eye Care technology, a feature that reduces eye strain associated with log viewing sessions thought its hardware and firmware, extended exposure time to blue light from monitors could have damaging effects on your eyes, with the eye care technology you can enjoy longer gaming sessions without worrying about negative.
The monitor is also up to date with the small bezels trend, offering sleek, thin bezels that match today's expectations. Furthermore, what makes this monitor more appealing the most other options on our best cheap gaming monitors list is its gamer look. Not only it comes with those lovely bezels, but it also does it in gamer looking fashion.
The thick, zero wobble monitor stand a great thing to see, and it gives it a small edge over the rest of the listed options. With a tough gamery looking monitor like this one, this product offers an excellent deal for a gamer who likes to show off a bit, but still on a budget.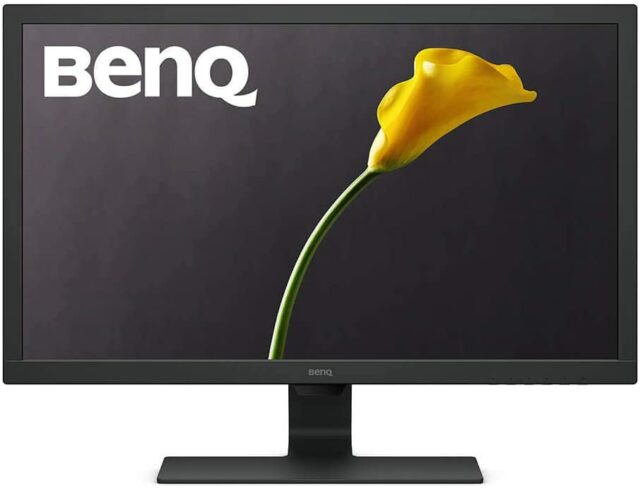 Our honorable mention is the BenQ 24 Inch GL2480. BenQ has been in the gaming monitor business for quite some time, offering an extremely great deal of gaming monitor options throughout product segments.
And for a hardcore, low response time gamer, this monitor would be the best choice. No wonder, it is very clear to us that tremendous efforts went into designing the BenQ GL2480 monitor, focusing on the gamer. The monitor opted to invest in a TN panel to offer low response time for hardcore FPS gamers.
The BenQ GL2480 comes with a somewhat small bezel but with a tremendous sturdy monitor stand, rivaling the Asus VA24EHE. It is also clearly obvious BenQ put some thought into designing this monitor stand, giving the fact it also offers the user to hide the monitor's cables through the cover.
The BenQ also utilizes Eye care technology to help your game for longer sessions by reducing eye strain. It also balances its brightness using its Brightness Intelligence Technology, detecting content's brightness intensity and dark areas and then enhancing the image accordingly for a more convenient viewing experience.
Although this monitor doesn't have FreeSync, This monitor still offers great features for the gamer. This is why this great monitor is on our best cheap gaming monitors list.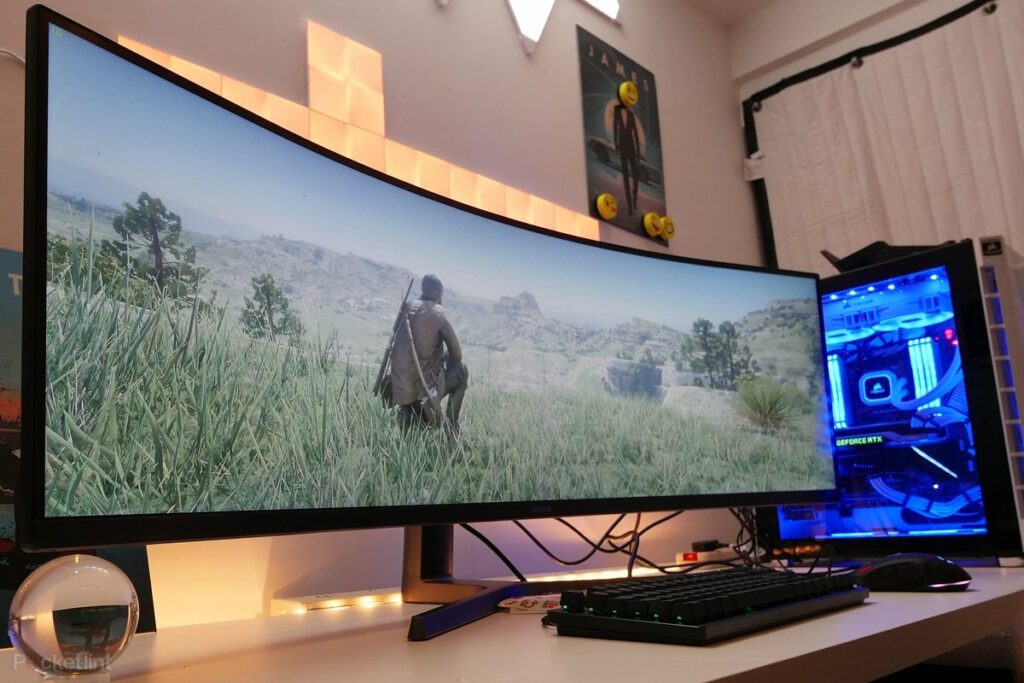 Our Final Thought And Verdict On Today's Best Cheap Gaming Monitors List
We have reviewed these monitors and picked them from a huge 75 competing monitors list; we presented every monitor's features and outlined their details. The monitors on today's best cheap gaming monitors list are the best out there you can find right now on the market.
In our humble opinion, the best of these listed monitors is the Philips 246E9QDSB. Its sleek, minimalistic, and elegant looks are overwhelming, not to mention its amazing color reproduction, indeed a great value monitor. Having it appeal to both the gamer and the content creator. By far, this is really a great deal.
We hope you enjoyed and got some excellent information from our best cheap gaming monitors list. And like always, Let us know if you want any PC part to be reviewed. Don't forget to share and comment in the comment section below with your basic gaming system configuration and what you like us to do next.
? Disclaimer:

Please note, this review has been researched with information and/or testimonials that are available online in the public domain as well as my personal experience and research. Any recommendations and/or conclusions are strictly opinions and may not apply to, or agree with, all persons or situations. See the full disclaimer for more info.

? This page includes affiliate links. Please be aware we only promote advertising from companies that we feel we can legitimately recommend to our readers. Please see our Affiliate Disclosure for further information.